Why Advertisers Should Follow the Audience and Focus on Video
Video has always been an efficient and effective way to reach consumers. As a medium, it is unmatched in its ability to inform and entertain, which is why we have seen viewership levels spike over the past few weeks as people have stayed in their homes to protect themselves and others from the COVID-19 pandemic.
Nielsen has reported an 85% increase in year-on-year video viewership for the month of March. Multiple other sources have confirmed that consumers are spending more time in front of screens and engaging with video – particularly on connected television (CTV).
At SpotX, our platform customers represent 97% of premium ad-supported over-the-top (OTT) streaming video providers, which gives us a broad and real-time view into how viewership is evolving. Over recent weeks we have seen significant increases in viewership across almost all content genres.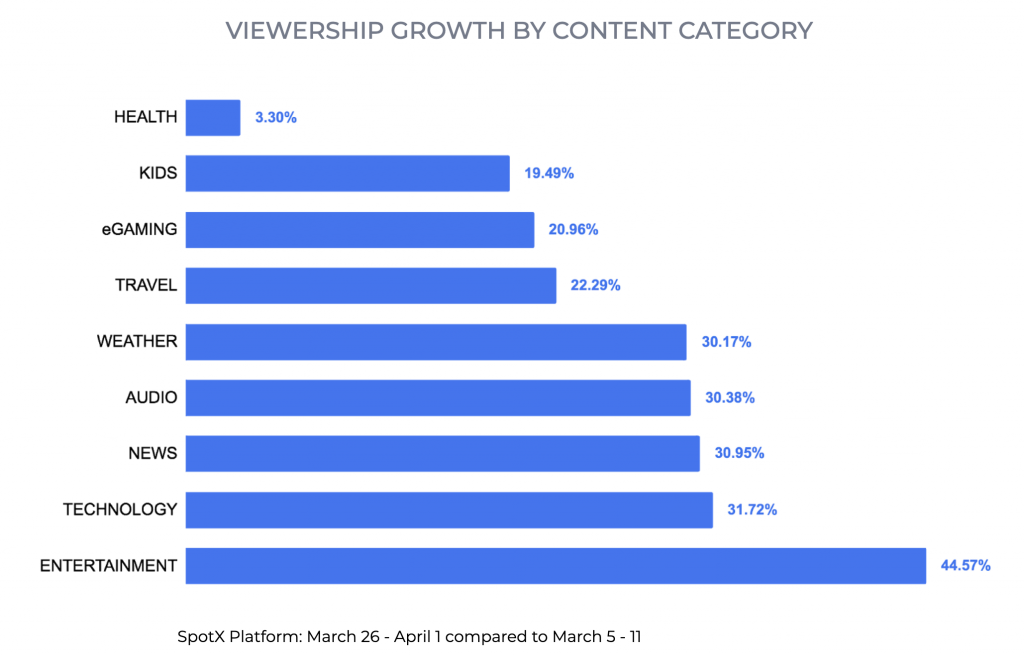 For consumers searching for ways to stay informed and entertained, CTV has been a welcome companion. Ad-supported streaming services, in particular, have offered audiences low-cost or free access to myriad content options.
A surge in CTV viewership is good news for advertisers as it makes what was already a highly attractive and efficient medium even more so. Increased viewership combined with CTV's innate ability to deliver on-target audiences makes it the perfect vehicle for either brand awareness or highly targeted performance-based marketing.
CTV for brand awareness – reaching audiences at scale
For businesses that rely on physical locations such as auto dealerships, retailers, restaurants, and travel, it has become necessary to shift many campaigns from performance-based to brand awareness. Brand campaigns keep businesses connected to consumers allowing them to stay relevant, retain mindshare, and be well-positioned to shift back into performance-driven campaigns when social distancing restrictions are lifted.
Brand campaigns rely on scale to be successful, so the use of CTV to support brand awareness has taken some time to ramp while advertisers waited for viewership to increase to levels that make CTV a viable option. 
Now, 50% of TV households watch streamed television – and many of those (one-third of TV households) can only be reached by CTV because they do not subscribe to cable. CTV has become critical not just as a way to deliver incremental reach, but as a primary method of delivering scale.
Primetime viewership has become less important as audiences embrace the on-demand nature of streamed content. CTV is a "primetime-all-the-time" environment, meaning the desired audience can be reached at scale at whatever time it chooses to watch.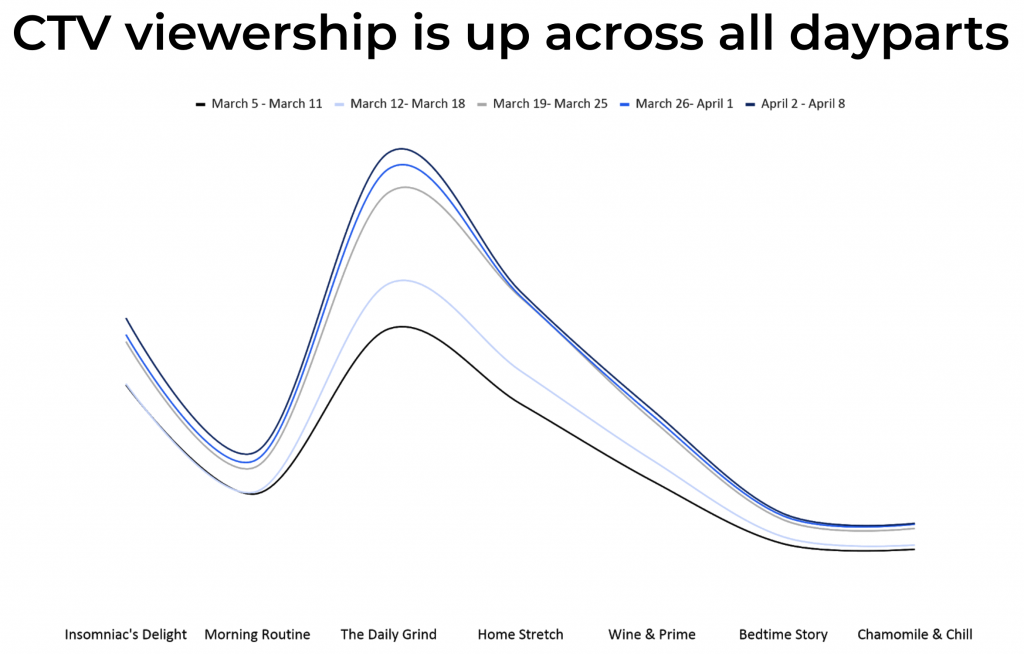 The recent uptick in viewership amplifies the rationale for including CTV as a line item on a  media plan and provides advertisers who are looking to focus on brand awareness with a viable option that can be quickly added to any plan.
Furthermore, SpotX reaches 4 out of 5 households that watch ad-supported OTT content, making it the easiest way to reach as many CTV viewers as possible through a single source of supply.
CTV for performance – reaching specific audiences with a high degree of efficiency
The digital nature of CTV enables every campaign to be transacted programmatically and delivered as an addressable activation. This allows advertisers to utilize CTV to target specific audiences, in specific locations, at specific times – which suits any brand that is actively looking to drive demand from an attributable source.
These are two important ways that advertisers focused on performance can benefit from CTV:
On-target delivery

– CTV delivers 100% on-target efficiency, which can dramatically reduce wasted impressions and has the unique ability to allow advertisers to identify their best consumer prospects – that is, consumers who are driving the majority of their revenue. They can then ensure impressions are targeted to those high yield audiences. 

Hyper-local targeting

– CTV can be deployed at the zip code level and to custom geographic areas to match store footprints, operational territories, or congressional districts, which enables accurate delivery to relevant audiences. 
Follow the audience
As audiences flock towards CTV, it provides a natural environment for brands to connect with consumers at scale. Every age group, demographic, interest type, and location is targetable. And, during a time when media plans need to be fluid and have the ability to react to environmental conditions, CTV provides advertisers with the flexibility to quickly deliver campaigns against either brand or performance KPIs in an efficient fashion. 
Consumers have chosen to strengthen their connection to streaming video. Advertisers should follow suit to remain connected to consumers.
For information on how to add CTV to your next campaign plan, contact your SpotX account manager or email [email protected].
About the author 
Paul Calderbank is the Director of Marketing Insights and Innovation at SpotX, where he leads the development of sales-focused marketing material and is a senior custodian of the SpotX brand. He has an extensive background in media and advertising, including marketing roles at Gannett and Haymarket Media, and leadership roles at several ad agencies. He has served on the management team of a successful startup acquired by Oracle Data Cloud, where he went on to build and manage the Media & Entertainment consultancy team. Originally from Manchester, England, Paul currently lives with his wife and two children in Denver, Colorado.