The Cross-Screen Imperative: SpotX hosts Total Video breakfast in London
SpotX kicked off a very busy September with the latest installment of our TV is Total Video breakfast series in London. Each year, we invite clients and partners to come together following the summer break to discuss video trends and hear from a series of thought leaders. This year we tackled the increasingly complex topic of "total video."
Léon Siotis, SpotX's president of Europe, kicked off the proceedings with a presentation detailing the new video landscape. It was interesting to hear about the continued growth of digital video within the European market, which showed an average 30% increase year-over-year in 2018.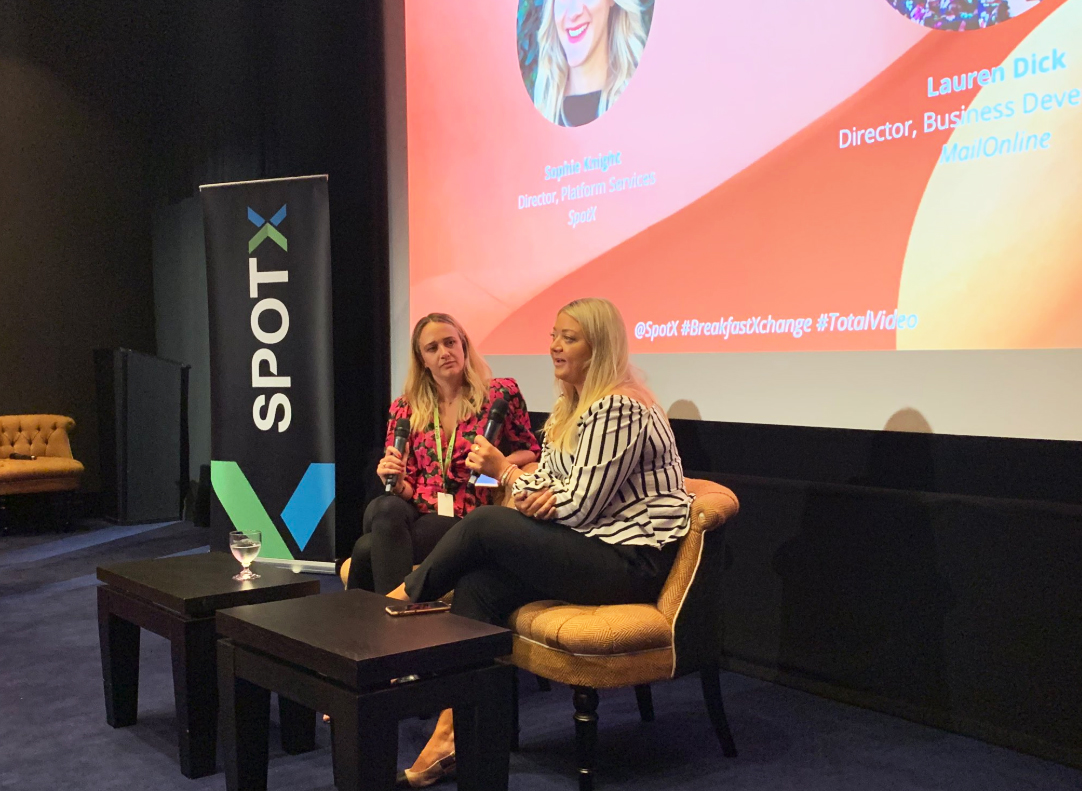 TV habits in the UK continue to evolve. While the latest Ofcom report found that 95% of households have a TV set wired for broadcast programmes, audiences are also consuming more over-the-top content. Léon shared data from the SpotX platform that shows global OTT revenue has increased from 8% in January 2017 to 64% at the beginning of 2019, illustrating the audience shift towards viewing video across multiple screens and streams. 
Following this introduction was a fireside chat featuring Lauren Dick, director of business development at MailOnline, and SpotX's Sophie Knight, director of platform services. Lauren shared insights on how MailOnline is diversifying its revenue streams by making its global content—including 900 new videos a day—available on more screens including connected TV.
"We do think differently about the way we publish content for different platforms," Lauren explained. "For example, we consider fun, less topical content for our Snapchat edition for younger audiences. For TV, we have the Daily Mail TV channel which we use to deep dive into what has been popular on the news site." 
Ed Wale, SpotX's managing director for the UK and Spain, concluded the event with a panel discussion titled "Reach the Total Video Viewer." He asked each panelist for their unique perspective on how to deploy a holistic video advertising strategy across desktop, mobile and the TV screen. 
According to Simona Gentile, global digital lead at Mindshare Worldwide, many global clients still differentiate between TV and digital, though the lines have blurred significantly over the past few years. "We are living in very exciting times because we can now go beyond linear TV when it comes to video and touch base with audiences no matter where they watch content."
John Tigg, executive director at TiggSystems.com, commended the industry for embracing the challenge of a cross-screen approach to TV. "We have made huge strides in providing audiences with the best possible consumer experience when it comes to video content. Television has left the living room and that has huge ramifications for attribution and measurement."
On the topic of measurement, Greg Turtle, head of TV and OTT at Nielsen, shared that clients appreciate what Nielsen is doing for universal measurement in the U.S. and eagerly anticipating its arrival in the UK. "We understand that measurement will unlock a lot of trading in the connected TV space," he explained. "Revenues are lagging behind consumption and measurement is one tool that can help solve that."
Lara Izlan, director of advertising data and analytics at ITV, reflected on the broader implications of digital streaming. "Video is becoming more and more powerful as a medium, and technology and infrastructure are a big part of that," she explained. "Diversity in video streams mean that audiences can curate what they watch in a more controlled way. This creates much more meaningful interactions that are good for both the content provider and the advertisers associated with it."
For more information about how you can navigate the Total Video landscape, get in touch with the SpotX team in Europe at [email protected]. 
This article was written by Lauren Saving, marketing manager, EMEA at SpotX.