OTT Is for Everyone and It's the Future of Video in APAC
Over-the-top (OTT) video has hit critical mass, and nowhere is this more apparent than in the Asia Pacific region. Media Partners Asia predicts that the online video industry in Asia Pacific (excluding China) will grow at roughly 15% per year to reach US$23 billion by 2024. The global pandemic has accelerated existing digital consumption trends, propelling OTT from a niche offering into the mainstream. 
Consumers have embraced OTT for their video entertainment needs, and brands are increasing their ad spend as they seek hard-to-reach audiences at scale. Brands also value studio-quality, long-form content on OTT, along with the advantages that come along with buying OTT inventory programmatically, like data activation and comprehensive measurement.
APAC is already home to a diverse ecosystem of global, regional, and local OTT players offering a variety of subscription and ad-funded access models with a vibrant mix of local and international content — and there's monumental growth ahead as the ecosystem continues to evolve. SpotX is proud to be a leader in OTT advertising and we have helped shape the industry in APAC, partnering with media owners and buyers to navigate the rich and fragmented AVOD landscape.
To gain a better perspective of the APAC video consumer and their viewing behaviour and ad preferences, SpotX commissioned research firm Milieu Insights to survey 7,000 participants across seven key markets: Thailand, Vietnam, Philippines, Indonesia, Singapore, Australia, and Japan. 
In our "OTT Is for Everyone" report, we've uncovered insights that answer:
Who is watching OTT content?

How are they watching?

Why do they choose to watch OTT over other platforms? 

How impactful are OTT ads?

How tolerant of ads are they?

How do OTT ads influence purchase behaviour?
What do we really know about OTT streamers in the APAC region? These are the top research findings:  
1. OTT has reached critical mass in APAC markets.
The estimated reach of active OTT viewers in the APAC markets surveyed is 392 million people – larger than the total population of the United States. Over two-thirds (69%) of video viewers in the region watch streaming video at least once a week, confirming that both the audience size and regularity of OTT viewing has matured and entered the mainstream.
2. Viewers watch OTT more than TV and video-sharing platforms.
OTT viewers are highly engaged, with a majority watching more than two hours of content per day. On a regional basis, this is higher than time spent with content on traditional TV or video-sharing platforms and highlights an important shift in viewership behaviour.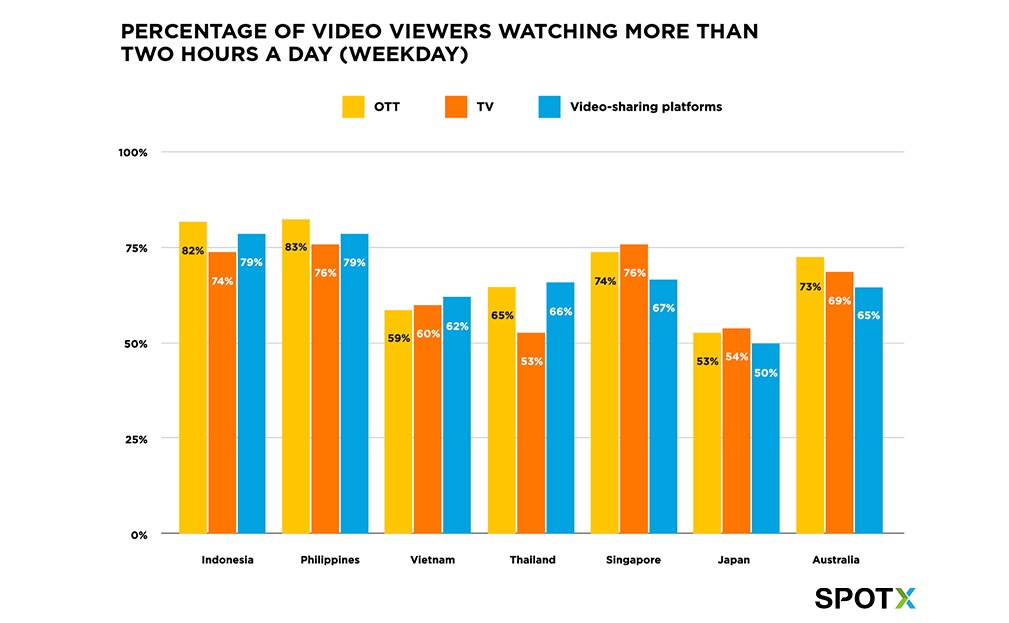 3. APAC is a mobile-first region, but connected TV is growing fast in some markets.
APAC is a mobile-first market — 66% of video viewers spend the most time watching on mobile devices. Yet smart TVs are gaining ground, as 22% of viewers own a smart TV. In advanced markets, including Australia, Singapore, and Vietnam, 20% of video viewers say smart TVs are their most-used device. 
4. Streamers prefer ad-funded content.
Most video viewers (67%) prefer to watch free, ad-supported content versus only 23% who prefer to pay for an ad-free service.
5. OTT ads rival social ads and resonate better than TV ads.
Streamers say that OTT ads are equally as effective as ads shown on video-sharing platforms in attracting their attention. They also report that OTT ads are often more impactful than traditional TV ads. 
6. OTT ads can drive greater purchase behaviour than TV and user-generated content.
OTT ads capture viewers' attention, but importantly, they are also effective at driving sales. Over one-third (35%) of ad-supported OTT viewers reported making a purchase after seeing an ad during programming they watched.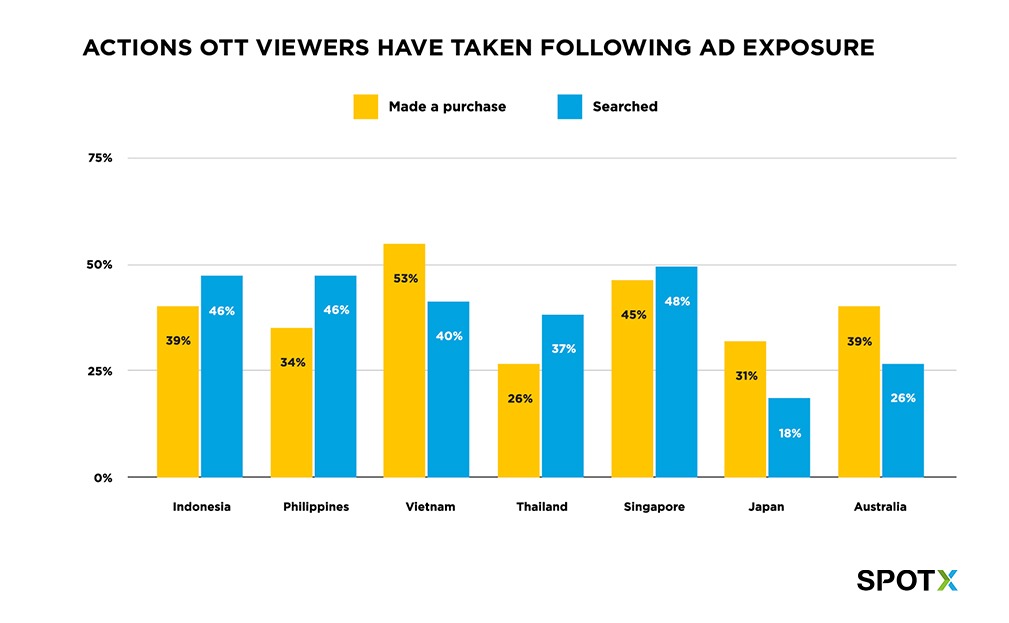 The unstoppable growth of OTT is set to continue in APAC. SpotX can help provide unrivalled insight into the profiles, preferences, and behaviours of OTT viewers and help you navigate this rich and diverse market. 
Start your journey by downloading the full "OTT Is for Everyone" report today. 
Nigel Kwan is the VP of Marketing for SpotX across South East Asia, Australia, New Zealand, and Japan. He is responsible for building the SpotX brand with leading demand and premium video supply partners in the fastest growing region in the world. With over 15 years of experience in senior roles within media agencies, media owners, and ad tech companies, he has spent the last five years working in APAC markets. Prior to joining SpotX, Nigel led marketing for Amobee and PubMatic.