How to Update Stale TV Advertising Strategies to Find Cord-Cutters
It shouldn't be news to anyone that traditional linear TV viewership is in decline. The story of the past decade in video has been the paradigm shift from cable subscriptions to digital streaming.
However, a surprising number of today's media plans continue to overlook this new reality. Traditional TV—encompassing cable and satellite — still garners the lion's share of video ad spend, even though these channels can no longer be counted on to deliver scale and efficient CPMs. 
If your current TV and video strategy feels stale, now is the perfect time to shake things up. Recent supply shocks during the pandemic only further highlighted the vulnerabilities of traditional linear economics. To succeed in the new media environment, advertisers need to embrace a nimbler, data-driven approach to their video efforts. 
Here are a few steps that can help you find and engage cord-cutters and cord-nevers, and offset the erosions in traditional TV.
OTT and CTV have reached critical mass—allocate budgets accordingly
Whether it's connected TVs (CTVs) in US and European living rooms, or over-the-top (OTT) apps in the mobile-dominant Asia-Pacific region, the post-cable future is here. SpotX's recent CTV and OTT viewership reports analyze streaming audiences and behavior in the US and key markets in EMEA and APAC. 
The findings show nearly half of consumers across the US and Europe now own a CTV; more than half watch daily, and nearly all watch weekly. Average viewing time in the US is 23 hours per week, not far from traditional TV's 35.5 hours (which skews upwards due to its large older demographic). In APAC, OTT viewers watch over two hours of content per day.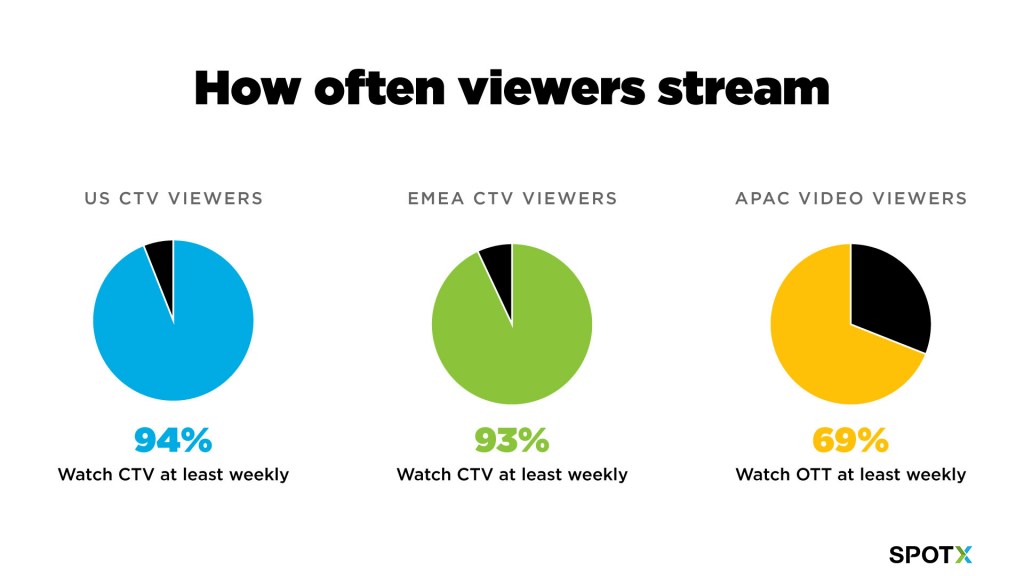 These audiences aren't just millennials, techies, or early adopters. CTV and OTT viewership is diverse along nearly every metric — age, ethnicity, income, gender, and family composition. Viewers watch a variety of content across all genres. Streaming isn't just for catching up with on-demand content either, with 75% of CTV viewers in the US and 28% in EMEA watching live programming. These channels have become necessary components in any well-rounded video strategy.
Focus your campaigns on in-market households
Reallocating your media mix towards digital has another built-in benefit: addressability. 
OTT and CTV are inherently more efficient than traditional TV campaigns. While the sticker price of CTV impressions may appear high at first, consider that digital delivers 100% to on-target viewers. Conversely, as many as 90% of linear TV ad exposures may be delivered to households that are outside the target audience. TV buys, which rely on gross rating points (GRPs) to measure delivery, often hit a saturation point with the intended audience but continue to deliver against the target in order to achieve GRP goals, further reducing efficiency. 

With increased granularity comes greater transparency. When operating with OTT or CTV, buyers can assemble a much clearer picture of what impressions they're purchasing — to whom, at which time, and where exactly each ad appears. This creates an invaluable stream of data that you can use to further refine your campaigns, prioritizing high-performing channels and removing those that see lower engagement or brand lift, thereby maximizing your overall return on ad spend (ROAS).
Lead the way in ad-supported streaming 
Savvy marketers are always looking for a competitive edge. When it comes to video, this means diving deeper into the post-cable landscape to find the next wave of growth that might offer a first-mover advantage. And, currently, there's no category rising faster than ad-supported video-on-demand (AVOD). 
As the streaming wars intensify, consumers are already feeling the increased strain on their wallets. This pain point unites digital viewers across the US, Europe, and APAC: More than half of these audiences prefer free ad-supported services versus paying for services without ads. As a result, there is a general, renewed acceptance for ads across regions, and greater receptivity within these specific advanced TV channels.
The opportunity here is rich—not only to tell your story in a place where competitors likely haven't yet surfaced, but also to drive more tangible actions among your target audience. By combining the scale of linear with the targeting and interactivity of digital, CTV and OTT are uniquely capable of delivering results throughout the full marketing funnel, from awareness to purchase and beyond. 
Test, optimize, repeat 
Long gone are the days of performance-blind advertising, when clients were resigned to the old adage that "half of my spend is wasted—I just don't know which half." Today, TV budgets deserve the same scrutiny as any digital or social campaign. Advertisers who shirk this due diligence end up paying many times over for the same results achieved by their more data-minded competitors. 
Consumer behavior has rarely been so fluid, and the evolution towards new forms of digital video shows no signs of slowing anytime soon. Now is the time to embrace a proactive approach to your TV advertising, continually monitoring and optimizing your spend to ensure the greatest bang for your buck, and that you're aligned with the latest viewing habits.
Mike Evans is SVP of Demand Facilitation at SpotX, leading the efforts of the North American sales team to connect buyers and media owners leveraging the SpotX video advertising platform to access brand-safe, premium inventory. His team assists buyers to find inventory for their video campaigns and advises video distributors on targeting across CTV and OTT to maximize reach and revenue. Mike is an ad tech expert with over 10 years of experience at companies such as Oracle, Turn/Amobee, and Xaxis. He joined SpotX in early 2017 and holds a Bachelor of Science in international business from College of Charleston.