How Brands Are Responding to COVID-19 and the Latest Viewership Trends
Note: This post reports on data for the period ending April 15. Check back in to the SpotX.tv blog and SpotX Ignite for new posts and trending data. 

It's been over a month now since most of the US began staying at home, schools closed, and professional sports games were postponed to prevent the spread of COVID-19. Consumers have formed new habits and brands across industries have begun to identify the most meaningful ways to communicate and reach consumers throughout this time. 
Advertising during coronavirus: how brands are prioritizing visibility and creative relevance 
Now that we can extract data from viewership activity over a longer time period, we can start to get a sense of ongoing trends as compared to some initial spikes. One thing hasn't changed: we've consistently heard from many brands that their business decisions are moving faster than ever before in response to consumer trends.
Even for traditional brands, now is the time for decisiveness. Brands are constantly monitoring news and updates from publishers as well as looking at daily data on media consumption and consumer preferences to identify changes in trends. Media plans are evaluated and refreshed daily. 
Viewership trends
Unsurprisingly, consumers continue to watch and engage with video. Entertainment, news, and kids' content had the highest increases in viewership during the week of April 9 as compared to the week of March 5.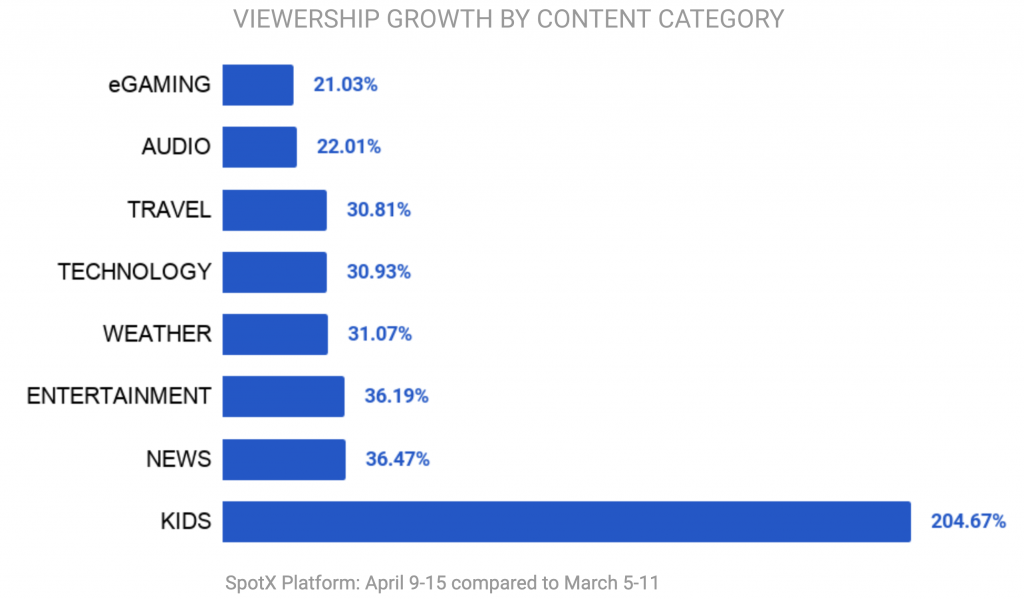 Our data also shows steady video viewership lift across devices – mobile, desktop, and CTV – and across all dayparts. CTV has quickly become a "primetime-all-the-time" medium with its on-demand nature, which is a promising opportunity for advertisers.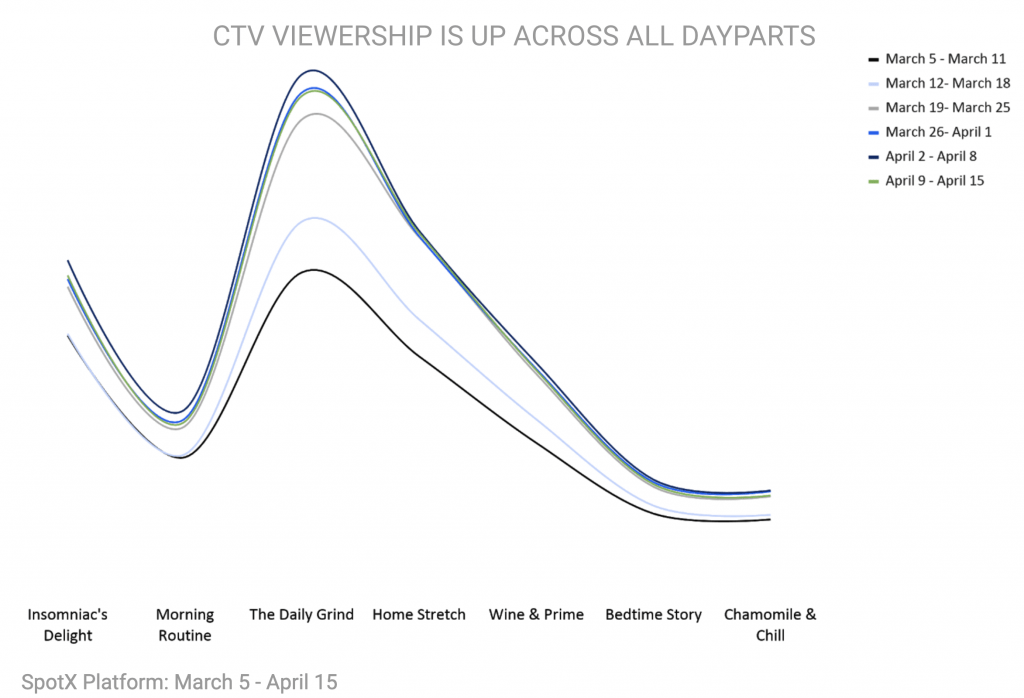 Many brands are already acting on these viewership trends. They're following the consumers and moving budgets to OTT or CTV, and running ads outside of traditional primetime hours. 
As families and individuals are spending a considerable amount of time consuming news, brands are also revisiting ad alignment and standards around news content. Given the importance of news during this time, many have incorporated news sites back into their media plans to help support and fund accurate reporting that is much needed today. Brands have shared a variety of workarounds, including custom white lists of apps and contextual keyword blocking to manage placements against the most severe news, or creating holistic guides with brand safety and media teams that provide specific instruction and outline where to block ads.
Ad spend trends and messaging shifts
As brands are adjusting media plans daily or weekly according to consumer shopping fluctuations, we've seen corresponding shifts in ad spend. Categories that rely heavily on physical environments such as retail, auto, and travel have experienced expected declines, whereas products that are typically purchased online and can be used indoors are thriving. 
Here's where we've seen ad spend increase and decrease across tier-one and tier-two categories (based on IAB categorization):
Across the board, brands are adjusting messaging to be mindful of consumers' realities. The majority of brands shared with us that creatives and ad plans are not about sales right now, and even brands that don't have an e-commerce presence can invest to strengthen brand loyalty.
Creatives are shifting to community-based messaging, showcasing the human aspect of brands and products, and speaking to how we can be there for each other. Some brands are partnering with charities and nonprofits and using ads to support fundraising efforts. 
Brands should focus on connecting, reassuring, and serving right now. Historical data shows that those that maintain a presence during a crisis or an economic downturn are best prepared to benefit during the recovery period.
What the ad ecosystem looks like after coronavirus 
The surge in CTV viewership has amplified its attractiveness to advertisers, with many choosing to follow the audience to video and increase OTT budgets. We anticipate that linear TV will continue to decline and streaming will further grow. Among the plethora of available streaming services, free and ad-supported content will increase, along with platform surfing and new content discovery. As consumers have more time to stream content, platforms with free or low-cost subscriptions have emerged as a strong budget-conscious option for new entertainment.  
It's also possible we'll see a paradigm shift when we come out of this, with more consumers fully adopting new digital and e-commerce habits. CPG brands shared that they're anticipating e-commerce will maintain momentum post COVID-19, specifically in grocery.
Alternatively, this time has proven the importance of the "how" and not the "what." We could see a surge in consumers who appreciate the return of the in-person shopping experience and reconnection with society. Brick-and-mortar businesses will have to respond to a boom after this, and they'll be able to emphasize the bespoke experience of retail. 
From an ad tech perspective, programmatic will continue to grow. As dollars are getting tighter, we're already seeing – and will continue to see – more in-housing of programmatic. It also remains to be seen if this is the end of the upfronts as we know them and an emergence of the digital upfront era. It's so far unclear how networks will adapt and if it will stick beyond this period. OTT may become a huge winner in the upfront process. Media owners will likely be forced to move more quickly into programmatic.

Finally, the speed of innovation right now is unprecedented. Decisiveness has accelerated and many have seen their companies quickly adopt a stronger approach to authentic messaging. This shift has been a silver lining, and will help brands be better positioned when the recovery period comes.
About the author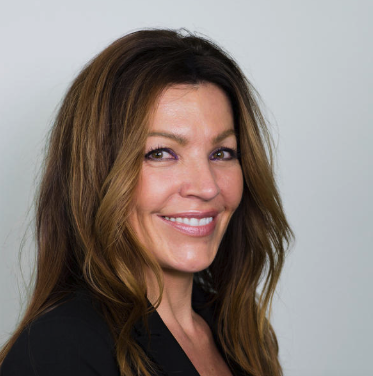 Cassidy Diamond is the VP of Brand Partnerships at SpotX, leading the Demand Facilitation team that supports Fortune 500 advertisers. Cassidy joined SpotX in 2014 to help brands navigate programmatic supply partnerships, while transitioning media operations in-house. During her six years at SpotX, she has been instrumental in evolving brand relationships through a variety of initiatives, most notably establishing preferred supply-side partnerships and launching the SpotX Brand Advisory Board.