12 Leading Women in Advertising Share Their Advice and Sources of Inspiration
March marks Women's History Month as well as International Women's Day – both of which celebrate the many remarkable achievements of women past and present. We thought we'd join in and feature some of the amazing, accomplished women we work with on a daily basis. Each of these women has made notable contributions to digital video and ad tech, and all of us at SpotX are proud to call them our colleagues, clients, partners, and friends. 
Here, a few of the many female leaders of advertising each share their advice for other women and recognize the women that have most strongly influenced them.
Aimee Harney, Purchases Group Manager at Procter & Gamble

Aimee is a passionate leader, known for driving transformational interventions, growing and coaching her people, and getting things done. She has spent the last 13 years in purchases, the last five of which she's been honing her mastery of the programmatic supply chain. After work, you can find her spending time with family, reading, and serving at her church.
"There are many women who have influenced and inspired me over the years. Coming from purchases, I had a steep learning curve into the ad tech industry. There have been many people throughout my career, but I would be remiss not to mention my closest mentor, Jen Schutte, who is part of P&G's Data Science team. She is a great teacher and took a lot of time teaching, guiding, and learning with me throughout my career in ad tech.
In addition, I work with incredible people in IT who frequently invest in my learning, and today I am fortunate to have a strong line of women leaders who encourage and support me to go over and above on any of my projects. Although I wouldn't point directly to a woman in ad tech, I am surrounded by many inspirational women of different backgrounds who help make my success possible."
Asha Neuville, Global DSP Manager at Dell

Asha has been with Dell for 14 years, and is responsible for Dell's programmatic strategy across both consumer and commercial in key focus markets. Apart from being passionate about digital advertising, she is also a big advocate for waste reduction and has led the Zero Plastic team at Dell Montpellier to help get rid of plastic on site.
"My advice to women who are looking to advance our industry is to go out there and ask questions. Never be afraid of not knowing. This industry changes every day, so continuous learning is key to staying on the edge. Challenge the status quo, do not let people who think they know everything make you feel dumb. Believe me, they don't know everything either and if you keep learning and asking challenging questions, you will soon have a valuable point of view.  
Then go out and share your knowledge with others. This is the most important bit. Don't keep it to yourself, rather find another colleague who seems vaguely interested and offer to help, start teaching or mentoring her. She will become as passionate as you and then become an advocate for our industry." 
Jeanne Leasure, Chief People Officer at SpotX
Jeanne leads and oversees global human resources, internal education, talent management, recruiting, and employee experience functions within SpotX. She has worked in human resources for over 25 years and has a proven track record of recruiting humble, driven talent and building flexible, collaborative, and purpose-driven workplaces that allow employees to achieve their goals.
"Never stop learning or investing in your personal development. My 30-something self was ambitious and focused on proving myself through hard work, which was effective to a degree, but I lacked confidence and self-awareness. I feared that the people around me thought I was an impostor and my identity was subject to what others thought of me. My 50-something self is slightly more evolved (it's a journey). 
I've invested in my education and personal development, and have grown by reading, researching, mentoring, lots of therapy, coaching, and practicing public speaking over and over – even when I wanted to throw up from the nerves. I've learned that by taking a growth mindset, we can all build resilience and liberate ourselves from self-doubt and others' opinions so that we can pursue our purpose in this world."
Jessica Dufresne, General Manager of Advertising Operations and Sling Tech at DISH Media

In 2015, when Sling TV was getting started, Jessica joined DISH Media to build the Sling Ad Ops team. She led the ad tech integrations to launch programmatic on live OTT and activated DAI on 120+ channels, spent countless hours troubleshooting, and has managed a team that has grown from two to more than 20 employees. Outside of work, Jessica enjoys baking bread, hiking, traveling as much as possible, and exploring NYC on her bike with her husband.  
"My advice for women in ad tech and video is to promote their big or small ideas, even if they worry about how others might perceive them. I've seen many women, including myself at times, hold back in the workplace because they weren't 110% sure of themselves. Once we start speaking up, opportunities for motivated women with creative ideas open up in an industry that is constantly evolving and in need of talented people to move it forward into the future."
Jill Steinhauser, Senior Vice President, Ad Sales Planning and Operations at Discovery
Jill employs her 20 years of media sales experience to lead sales planning and operations for the entire portfolio of Discovery's linear and digital domestic brands. In this role, Jill has been instrumental in developing and executing monetization strategies, driving US ad sales revenue, and leading a robust team to achieve company-wide ad sales goals. She is a member of the Freewheel Council for Premium Video, serves on Group Nine's Board of Directors, and was named as a Top Woman in Digital in 2017 and 2018 by Cynopsis. 
"Don't be scared to ask all the questions you need to. Use the people you work with, who work for you, or your industry contacts as resources. The world of ad tech is extremely complex and ever-changing, and it's very easy to be intimidated. We're all figuring it out as we go as our business is still quite immature. As user behavior continues to migrate to the streaming world, we as leaders have the opportunity to shape the future of this business, but we won't get there without the continued questioning of the business rules, tech, and processes we put forth."
Katherine Pond, Vice President of Business Development at VIZIO

Katherine joined VIZIO in 2012, helping lead OTT distribution partnerships, content and IP licensing, and strategic partnerships. Passionate about mentoring women in business, she is a co-founder of VIZIO's Ascend program, a mentor at her alma mater, Concordia University, where she was named 2020 Alumna of the Year for Professional Achievement, and was recently named to the "Orange County 40 Under 40" list. She is also a wife of nearly 15 years and mother to a cheerful 15-month-old boy.
"For women who are looking not only to advance the technology and advertising industries, but also to succeed in business generally, I think sometimes it is as simple as: 'Say yes to new things.' Two of the greatest opportunities in my career were a result of saying 'yes.' I didn't have all of the answers, but I wasn't going to let an opportunity pass me by to try something new and learn something difficult. 
Organizations always have room for good people who step up to a challenge and find a way.  By saying yes, I expanded the scope of my role and responsibilities and was able to make a difference for my organization. If we try to find the solutions – whether that's a new way to implement technology, a new way to measure, or a new way to work together – we will push the industry forward together as we say 'yes.'"
Kelly McMahon, Senior Vice President of Global Operations at SpotX

Kelly directs all of SpotX's enterprise-level revenue management activities and leads operational initiatives for brands, agencies, media owners, and programmatic traders to drive incremental ROI. With more than 15 years of experience in ad tech, Kelly is a sought-after thought leader and has spoken at the Lotame Spark Conference, AdMonsters Publisher Forum, Advertising Week New York, General Assembly Denver: Women in Tech, and several SpotX-hosted events.
"Stay curious and empower others. In ad tech, you need to continually ask questions and turn over every stone because there are so many great ideas, solutions, and opportunities if you are curious enough to find them. Ad tech is a busy, ever-changing ecosystem – it takes a village to accomplish all we do at the pace we do it in. We need to empower those around us and prop each other up because together we can do more!  
Over the course of the last few years, Kim Perelle, the former CEO of Amobee, has inspired me to challenge myself and continue to push for more in my career. Her book, 'The Execution Factor,' helped me develop a blueprint for success by focusing on being more deliberate with my actions and time."
Lauren Silva, Vice President, Global Partnerships at CBS Interactive

Lauren is charged with driving strategic revenue growth and partnerships across CBSi digital properties. Prior to leading global partnerships, Lauren developed CBS Interactive's mobile ad strategy, and also served in a variety of marketing and business development roles within Microsoft Digital Advertising and Gap Inc. Direct. She's based in San Francisco with her husband and 1-year-old daughter, Kelly.
"If I can break down some of the greatest areas to keep top of mind for those looking to advance the ad tech or digital video industry I would include: 
Strive to be the best you can be because no one else can or should push you as hard as you can.

Find your confidence and voice; hold your ground rooted firm in the facts balanced with awareness to execute. 

Always seek out opportunities to learn, especially in a tech landscape where it's key to be adept at making the complex more simple. 

And finally, but probably most importantly, be kind to people regardless of their position or title, as I have found you can learn from anyone in the space, often in ways totally unexpected. I've been amazed how seemingly unconnected conversations lead to new perspectives and open doors in new and exciting ways."
Purwa Jain, Director of Advertising at HOOQ

With over 18 years of experience, Purwa's career spans the entire breadth of technology companies from demand to supply (publishers, SSPs, exchanges, DSPs, ad networks, etc.), and across coding, product management, and operations in digital advertising, mobile advertising, SMS, and email marketing.
"The ad tech ecosystem is constantly evolving at a pace that it is often difficult to keep up with. The only mantra to succeed in this space is to ensure you constantly upskill yourself. Ad tech is made up of two specialties – advertising and technology. My advice to women is to gain the skill set required in both domains and not shy away from understanding the technology aspect, even if your functional role isn't predominantly in technology. Your credibility score increases when you have an understanding of the technology behind the advertising and, in turn, makes the ability to communicate challenges better both internally and externally." 
Rachel Mervis, Global Programmatic Lead at Nestlé
Rachel is responsible for end-to-end programmatic, leading and developing the foundation and long-term strategic framework for programmatic across Nestlé. She helps to develop programmatic expertise, drive operational efficiencies and effectiveness, and shape the future operational model for programmatic. Rachel has seven years of media experience across publishers, agencies, and ad tech, as well as across multiple disciplines within programmatic. 
"My single biggest piece of advice is to own and hone your confidence. Do not be afraid to ask for an opportunity. In most scenarios in life, you need to ask for something to get it. So just ask; the worst that can happen is you are told no. 
Women frequently do not even apply to roles, because we do not believe we are qualified. Go after the roles you want, despite not having done all components of it in prior roles. Women have an innate ability to connect the dots, to pivot past experiences into each and every decision, and to know how to tackle an initiative by pulling from prior learnings. Use this innate skill set and be confident that you will succeed. And any time you don't succeed, pivot that learning into a future experience."
Ria Madrid, Vice President of Media Strategy & Operations at XUMO

Ria leads XUMO's supply-side strategy, cultivating and optimizing ad partnerships across the streaming platform's expansive portfolio of premium content providers. She joined XUMO's Advertising Team in early 2018, and has since been responsible for inventory merchandising across programmatic platforms, maximizing yield and overall partner success through various revenue initiatives.
"XUMO's very own SVP of Marketing and Content Operations, Fern Feistel, has inspired me. She is the definition of a fearless leader. She tackles every project head-on, regardless of its level of ambiguity or challenge. She does so with poise, passion, and ownership. Both professionally and personally, I look to her for inspiration on the day-to-day ability to demonstrate balance, growth, strength, and patience."
Trace Rutland, Director, Digital Hub at Ocean Spray

Trace Rutland has spent over 20 years at media agencies in various roles in both planning and buying across all media channels. She acted quickly on a fad called digital media and has been chasing that bright shiny object ever since. Jumping to the client side, she oversaw media buying across the Mars portfolio, then moved to Hershey to lead addressable media and technology, and most recently, joined Ocean Spray to build and lead a data-driven media practice.
"Live in a place of constant curiosity and remember this is all still pretty new. I think you have to be comfortable being the only woman in the room, but don't be afraid to point it out either."
What's your advice for other women? Share it with us or tag someone who's been influential in your life on LinkedIn or Twitter using #SpotXLeadingWomen.
About the author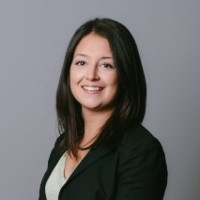 As Content Marketing Manager, Rachel Sullivan leads SpotX's content strategy. She helps shape the stories, insights, and news that leaders across the advertising ecosystem need to advance the industry. Rachel previously managed B2B content and digital marketing for a range of emerging technology companies and has both agency and in-house experience. Outside of work, you can find her traveling the world or exploring her home of New York City.