Holiday Shopping Trends in 2020: A Shift from Traditional to Digital
This year, holiday shopping is falling in line with the changes brought about by 2020: less in-person, more online. In early November, we launched a holiday-focused edition of SpotX Ignite which highlighted five key holiday shopping trends we expect to see this season. The trends as we predicted them back in early November are featured below.
Sources: Deloitte holiday retail forecast (September 2020), National Retail Federation holiday planning survey (September 2020)
As we head into the final moments of the holidays and gather more data, we're revisiting our predictions to see how they're taking shape. 
Theme 1: On track with projections
Consumer spending is projected to be similar to last year
According to a recent eMarketer report, holiday spending is predicted to be similar to last year. While online sales reached record highs, total spending came in beneath previous projections. This means that less offline activity than anticipated moved into online channels over Black Friday and Cyber Monday. With weak foot traffic and online sales currently coming in beneath expectations, spending this holiday season is projected to remain flat with last year, which is impressive given 2019 was a year of record growth.
Theme 2: On track with projections
The shopping window started earlier and will last longer
This year, 42% of people said they started their holiday shopping earlier this year than in prior years. Traditionally, November and December are considered the holiday shopping months, but with many retailers starting their sales windows earlier this year to compete for their share of holiday wallets, the majority of consumers began checking off their lists before November. According to the NRF, as many as 59% of consumers had started their holiday shopping before November in 2020. This represents a 10% increase from 2019. 
Theme 3: On track with projections
Online shopping reached record highs after Thanksgiving, especially on mobile 
While U.S. store visits dropped by 52% on Black Friday, online sales reached record highs. According to Adobe Analytics, Black Friday sales reached $9 billion and $10.8 billion on Cyber Monday, making both digital holidays the biggest in U.S. history. 
Mobile also played a bigger role this year than in years past. On Black Friday, U.S. shopping app downloads reached a record 2.8 million installs, and the month of November saw a total of 59.2 million shopping app downloads, a 15% year-over-year increase. In keeping with these trends, mobile shopping accounted for $3.6 billion of spending on Black Friday, which represents 40% of total digital spend. 
Theme 4: On track with projections
Curbside and in-store pickup are new concepts that are performing well
The concepts of curbside and in-store pickup saw a rise in popularity, suggesting the idea may have staying power when the pandemic ends. According to Adobe Analytics, purchases made online that are then picked up curbside or at the store increased by 52% year-over-year this Black Friday. New shopping behaviors – like online ordering and curbside pickup – have come to prominence by necessity this year. However, many shoppers are realizing the long-term time-savings benefits these options offer, making them likely to outlast the pandemic.  
Theme 5: On track with projections
Most retailers opened their doors on Black Friday but to quiet foot traffic 
With the majority of shoppers buying online due to the pandemic, U.S. retailers saw a roughly 48% decrease in foot traffic in physical locations this year. 
Advertiser spending trends: The biggest shifts from last year
To keep pace with consumer trends, advertisers are making changes, too. Here's what we're seeing at SpotX as we compare advertiser spending trends from November of 2019 to November of 2020: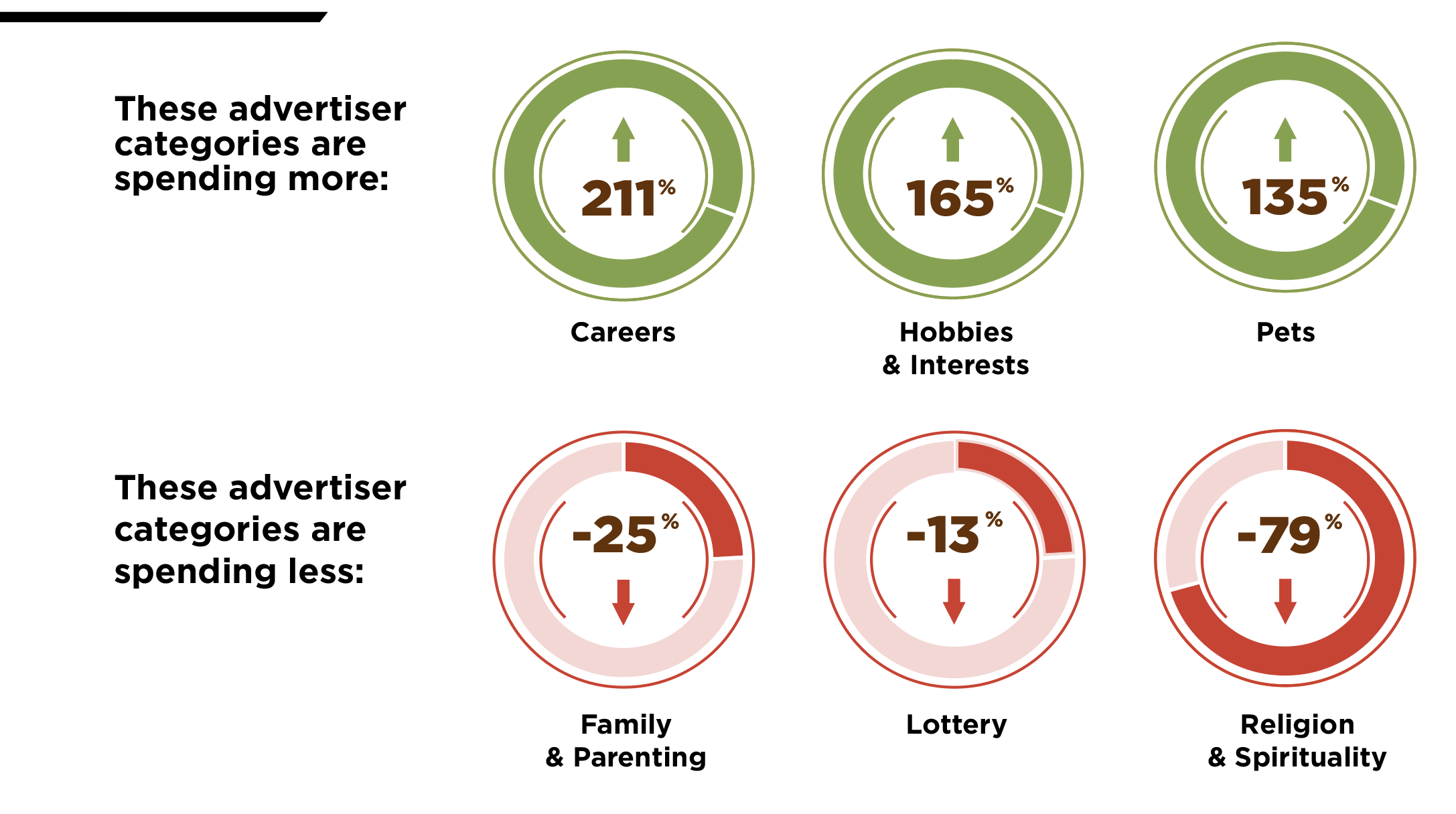 Source: SpotX Platform (November 1 – December 7 2019 compared to November 1 – December 7 2020).
Cheers to 2021!
While the holidays look different this year than they have in the past, we're excited to continue to keep track of changes in our industry as we approach the new year. We look forward to seeing what the year has in store and to see how this year will influence trends for future holidays. To better understand what advertisers can do to keep pace with the shift from traditional to digital, visit our full holiday report here or get in touch directly at [email protected]. 
From all of us here at SpotX, we wish you a wonderful New Year. Here's to 2021! 
For more information on holiday trends and how to reach shoppers, visit www.spotx/ignite.
Bethany Lechner is a Product Marketing Manager at SpotX where she develops go-to-market communication plans and content creation for product and feature releases. Prior to joining SpotX in 2019, she started her career in advertising as a strategist where she led national and global brand strategies for a variety of clients, including American Airlines, Infiniti, Anheuser-Busch, and Fruit of the Loom. She holds both a B.S. and MFA from the University of Colorado at Boulder, where she picked up her love for backcountry skiing and mountain biking.