Don't Wait to Include OTT in Your Marketing Budget
A 62-year-old and a 26-year-old walk into a bar. On the bar is a glass of cheap beer and a glass of 12-year-old scotch. Who gets which? If the only information you have about them is their age, you would probably give the beer to the 26-year-old. But the bartender knows each remarkably well and hands the 26-year-old his scotch.
Believe it or not, that is the story of advertising on traditional TV versus Connected TV (CTV) which is a subset of Over-the-Top (OTT). But I'm getting ahead of myself. First, we need some context.
OTT is defined by the IAB as "video content distributed over the Internet outside the closed networks of telecom and cable providers." CTV is either a smart TV or a device attached to a TV such as a Roku or Amazon Fire TV Stick. OTT is already mainstream:

And OTT usage is growing: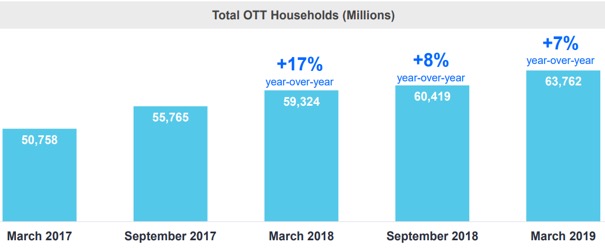 Why is OTT so popular? The way we consume media has changed dramatically. The evolution from traditional broadcasting to OTT reaches all ages and demographics. OTT is available and generally preferred among most consumers. It also offers great opportunity for advertisers. Here's why:
Advertisers get multiple touchpoints to a potential customer

. They can strategically reach consumers on their preferred devices and channels.

More granular targeting

. OTT is the bartender. Since it knows about my household through browsing history, my location, etc., the advertiser can target the exact consumer they want.
Despite the benefits, agencies and advertisers have been slow to embrace CTV. Forrester found that only roughly 15% of marketing professionals regularly include CTV in their television media plans. Why the hesitation? The main reasons marketers give include:
Ad fatigue. Many OTT platforms do not have sufficient controls in place to ensure the same user doesn't get pelted with the same ad over and over.
Difficulty in tracking results

. The lack of standards across the different OTT platforms makes it difficult to gather information with the same level of accuracy as traditional TV.

OTT ad fraud

. Non-standard naming conventions and problems with app spoofing cause concern about ad fraud.
While these factors are real, tracking and measurement solutions are being developed. Thus there is no reason to wait and lose the first-mover advantage. Advertisers can start including OTT in their marketing budgets now to take advantage of OTT's reach and targeting capabilities. The best reason to include CTV in your marketing mix is the ability to show your ad for 12-year-old scotch to the right person. They'll be glad you did. 
Want to learn more?
Check out our online tool, SpotX Explorer, to check out the premium inventory OTT/CTV content you can access on the SpotX Platform.
This article was written by David Spiro, a product marketing manager at SpotX