Poll Results: What Are APAC Marketers' Attitudes Towards OTT?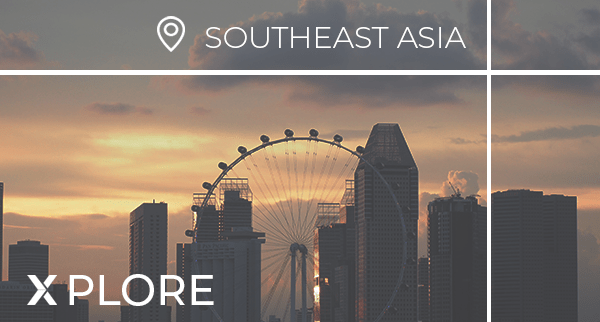 Over-the-top (OTT) video has hit the mainstream and brands have started to pay attention. During SpotX's recent Guide to OTT in APAC webinar with WFA, we asked the 70+ attendees for their views on OTT. The results reflect a favourable attitude towards increasing spend; however, some challenges with OTT still exist, which are slowing adoption and ramping of spends.
The poll shows 47% of brands will look to increase investment in OTT between 10-20% in the next 12 months.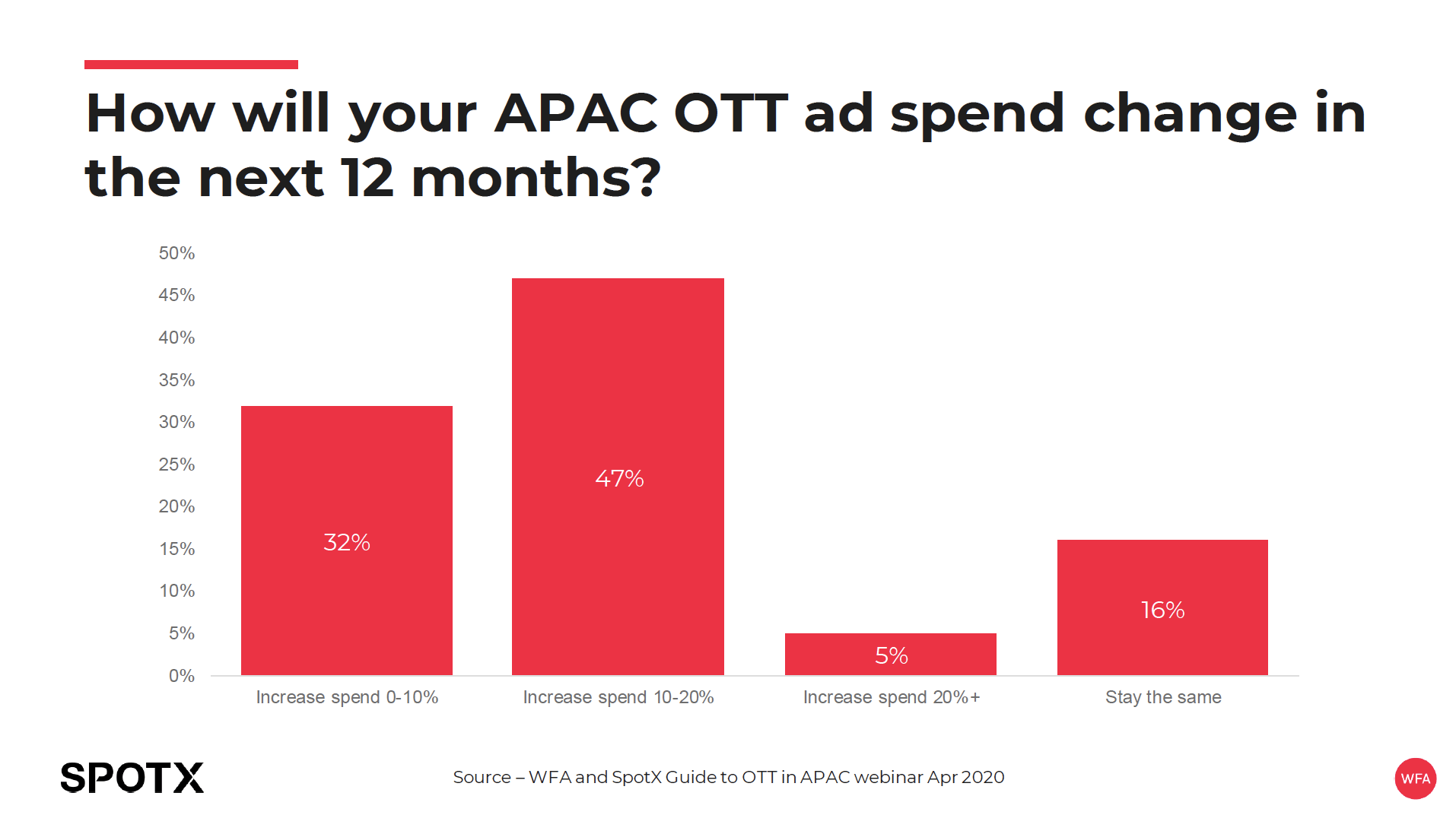 With linear TV in decline, audiences have turned to digital video. OTT stands out by offering a TV-like ad experience with the additional benefits of programmatic. This was similarly reflected in the WFA OTT Benchmark Guide, which revealed OTT spend to be between 5-40% of digital media budgets, with growing reach to engage new audiences as the main goal. Media Partners Asia predicted that online video advertising and subscription revenue within the APAC region will reach US$52 billion by 2024. 
The current pandemic situation, in which stay-at-home measures are enforced, has made OTT an even more attractive platform as consumers turn to video streaming services for indoor entertainment. SpotX Platform activity revealed growth across content categories, including gaming, entertainment, finance, and audio. 
Cross-platform measurement is highlighted as a key feature to unlock OTT spend by 31% of brands.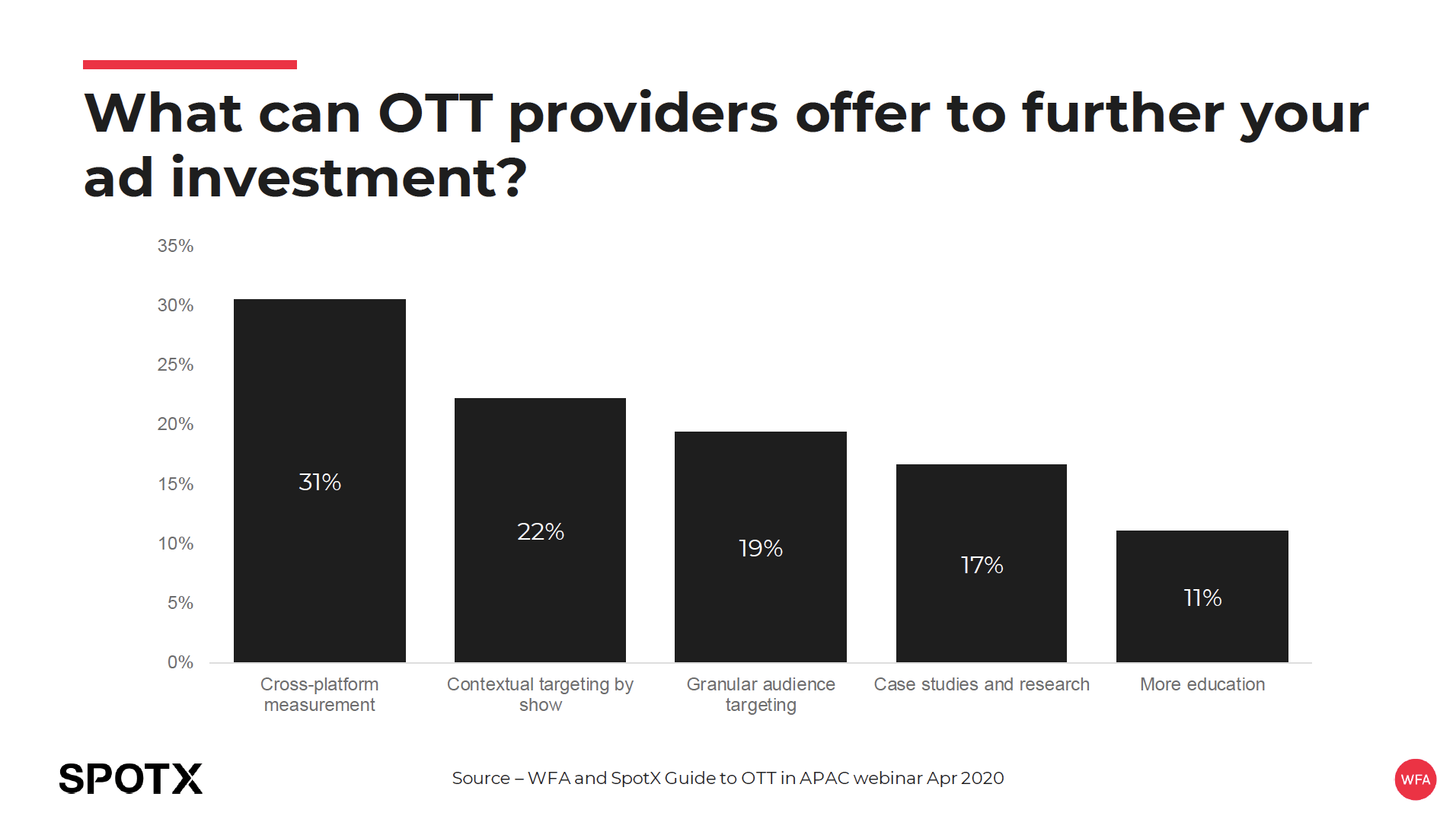 OTT in Asia is predominantly centered around mobile apps, so the targeting and measurement capabilities are more advanced than CTV right now. Considering audience fragmentation, it is understandable that brands want to be able to better measure across platforms before increasing OTT spend. Similarly reflected in the WFA OTT Benchmark, brands cited measurement as the biggest hurdle, including third-party measurement, silos that prevented cross-platform assessment, or the ability to prove the value of OTT platforms. 
Market fragmentation is a barrier to OTT spend, according to 25% of brands. 
The OTT landscape in APAC is as rich and diverse as the countries and cultures in the region. As 25% of brands say market fragmentation is a barrier to OTT spend, selecting a partner with local expertise and teams on the ground is essential. While a fragmented market poses challenges with the complexity of measurement and targeting, the growth in regional publishers offering quality local content can serve as a pull factor to attract new users to adopt streaming platforms and increase audience reach. 
Watch the WFA webinar to find out more about the OTT landscape in APAC here.
About the author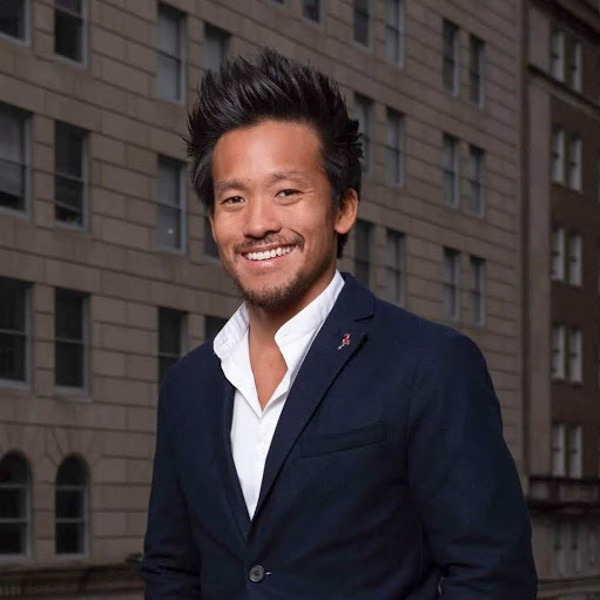 Nigel Kwan is VP of Marketing, APAC at SpotX, leading the team responsible for how SpotX shows up in the fastest-growing region of the world. He has held roles within media agencies, media owners, and ad tech companies, and has spent the last five years working in Asia.