What's In Store for Video Advertising in 2020? We Asked the Experts.
A new decade is upon us! There's something futuristic about 2020 and entering a new era. While there may not be any flying cars as seen in the Jetson's Orbit City, there are a lot of predictions and opportunities as we enter this new decade.
At the end of last year, we spoke with 16 leaders in video advertising to hear their thoughts and predictions for the new decade. Following are a few of their predictions, and you can check out the full SpotX 2020 Vision for their perspectives on 2019, plus the opportunities and challenges that lie ahead in 2020. 
Programmatic and TV buyers will collaborate more closely
We're facing the continued convergence of linear TV and digital, which is merging all video formats. It's creating opportunities for players across the video spectrum to collaborate and improve the viewer experience. 
Says John Rogers, VP of Global Business Development at Amobee, "Good advertising technology can help bridge the digital programmatic teams with the television investment operations at both agencies and brands. Obviously, digital teams are well-versed in what technology can do, but TV buyers are now seeing how programmatic can help with traditional sales initiatives like the upfronts. There is a huge opportunity to help both supply and demand partners work together more efficiently." 
AVOD will shine in 2020
Talk of the new subscription video on demand (SVOD) services coming to market and the subsequent streaming wars dominated conversations in 2019, but advertisers shouldn't sleep on ad-supported video on demand (AVOD) in 2020, warns Cathy Oh, Global Head of Marketing and Analytics at Samsung Ads. In fact, Samsung Ads' latest research on platform surfing shows more than 60% of streamers watch AVOD. 
"Video reach opportunities are dynamic and abundant with an extraordinary increase in viewing happening in an ad-supported environment. We've already seen significant consumer utilization and advertiser demand as great content comes on board spanning news, sports, kids, lifestyle, gaming, and more," says Oh.  
Advertisers will demand new measurement solutions

Measurement is – and will continue to be – a major challenge. Not only are advertisers looking for a consistent, unified way to measure CTV and OTT campaigns, they also need a way to track performance across video formats as viewers bounce from screen to screen. 
Says Steven Woolway, SVP of Business Development at DoubleVerify, "I believe there will be a shift in how advertisers measure the performance of their advertising campaigns, going beyond stand-alone metrics like viewability or time-in-view. 
DoubleVerify and other analytics and verification providers are looking to develop new solutions that help media owners meet the demands of advertisers. "DV is advancing a predictive performance innovation, Authentic Performance®, which will provide deeper, more relevant insights into the combination of ad exposure and user engagement metrics that drive campaign success," says Woolway. "These sophisticated performance metrics represent a significant step forward – enabling advertisers to maximize return on ad spend and, ultimately, drive real business outcomes." 
Data is key in the growth of OTT and CTV
Across the industry, the experts we spoke with agreed that OTT and CTV growth wouldn't slow in 2020. This is introducing more fragmentation and saturation across the media landscape, which is in turn creating an opportunity for OEMs to play a larger role in simplifying ad processes, measuring success, and safeguarding the user experience. 
Device manufacturers — who hold immensely valuable audience data — will be more attractive to advertisers looking to reach specific audiences. "Data is going to drive unique insights for advertisers like never before," says Nyma Quidwai, Sr. Manager of Business Development and Advertising at VIZIO. 
She continues, "We're focused on first-party data collection across screens and utilizing that data to target users in ways that maximize the incremental reach, frequency, and campaign efficacy that OTT advertising can deliver for brands. For advertisers, reaching your most valuable audience on every screen, tracking the impact of your CTV buy with unique metrics, and then re-engaging those households across devices with sequential messaging is a huge opportunity." 

There are a lot of exciting areas of growth ahead for digital video in the next year — and decade. With these opportunities naturally come new challenges, so be sure to review our experts' predictions and align your 2020 plans accordingly.
Check out the full report here.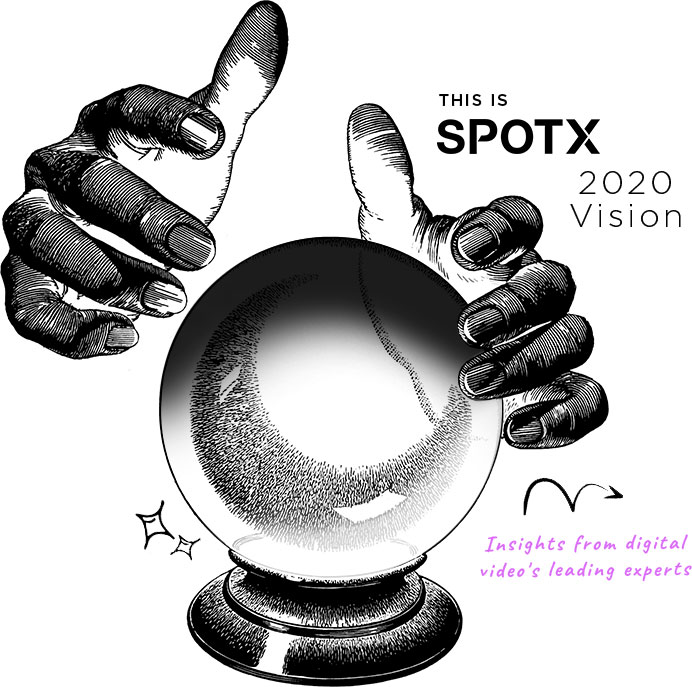 This article was written by Olivia Tinney, video marketing specialist at SpotX.