Weathering COVID-19 and Beyond in Japan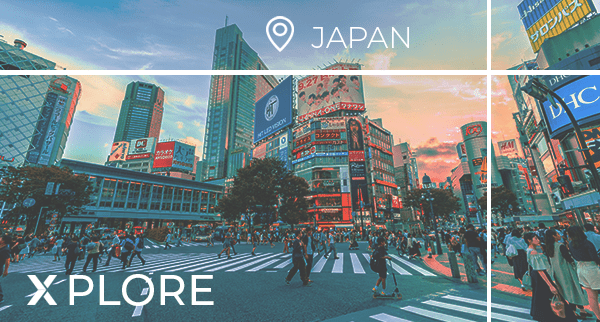 Welcome to Xplore, your essential source of video advertising insight from across APAC, the most diverse region in the world.
COVID-19 has upended life as we know it, reshaping daily routines and industries globally. 
While some countries have declared themselves virus-free, others are seeing new cases spike. Japan has managed to avoid the massive outbreaks and full lockdowns seen elsewhere. Many businesses remained open, and new normal measures of mask-wearing, good hygiene practices, and minimized social touch are an extension of pre-pandemic daily habits in Japan where bows replace handshakes.
Yet, like most countries, Japan faces the dichotomy of saving the economy versus tackling the pandemic. Consumer confidence has taken a knock with a resurgence of new cases in Tokyo, but authorities pressed on with the domestic "Go To Tourism" campaign without Tokyo. Schools have reopened despite lingering fears as temporary closures revealed digital challenges with home-based learning.
Elsewhere in APAC, Australia and New Zealand looked to establish a "travel bubble," however have since locked down again. Singapore is pumping in big sums to promote domestic tourism and New Zealand is considering a four-day workweek to revive local tourism. In China, schools shut down and remote working resumed in Beijing after new spikes. Meanwhile in Europe and the US, reopening efforts have stalled as quarantine measures and restrictions return with increased mask-wearing and coronavirus testing as infection rates rise. 
Yet, there's always a silver lining to any crisis. Japanese brands and advertisers who adapt and innovate will accelerate post-COVID-19 growth as the world settles into a new normal.  
Embracing technology
Japanese consumers ranked among the least optimistic about economic recovery when compared with China, India, and the US. Businesses including traditional ryokan inns and even the US arm of Japanase minimalist retailer Muji are filing for bankruptcy. Entertainment venues are being paid to close down and retail giants are taking big hits from weak consumer spending.
However, businesses across sectors are reinventing themselves by adopting virtual alternatives and integrating technology into their strategy as consumers move online. Brands have seen great success in China as it emerged first from the pandemic. Nike's integration of their fitness and e-commerce apps generated a 30% increase in digital sales, while beauty brand Dior took product sampling online with Meitu, China's largest beauty app, bringing AI-powered skin testing to its consumers. 
Reaping the full benefit of technology innovation will involve a solid strategy to sync an online rollout with the right communication plan and product choice.
Japan's consumers have historically lagged behind those in China, the US, and the EU in online purchases, but the pandemic has sparked an increase in e-commerce, almost doubling e-grocery demand to 5%. Although lower than countries like China (15%) and UK (7%) in pre-COVID times, this is a major shift for Japan's e-grocery-hesitant consumers who prefer to see products and shop in-store.
As restaurants turn to online food delivery companies to satisfy takeaway demand, delivery companies are rapidly expanding. In Japan, Uber Eats grew its delivery fleet to cities in 16 prefectures, and new competitors like Chinese ride-hailing app Didi Chuxing are riding the food delivery wave offering attractive 50% discounts during Japan's golden week. Closer collaborations between restaurants and delivery services can help restaurants survive as customers self-isolate even if dining in is possible.
Teleworking, previously a benefit for the privileged few, is now a necessity. In the US, numbers have skyrocketed, with 42% of the labour force working remotely and tech giants like Twitter and Google extending this beyond the pandemic. Remote working was almost non-existent in Japan's deeply ingrained office-based work culture pre-pandemic, but it has picked up despite initial reservations, with 50% of businesses partially switching to a telework model. Digital business collaboration tools like Zoom and Slack soared as video conferencing grew by 98% in Japan. Such blurring of online and offline boundaries is expected to continue post-COVID as companies have been reassured by high productivity levels. 
While it remains to be seen if this will become common in Japan, the pandemic has certainly shifted workstyle mindsets, as authorities have hinted at more radical ideas of "workation," where employees telecommute from holiday destinations. 
Shifting ad spend 
As consumers move online, ad spend on OTT, news sites, music streaming, and gaming platforms has followed. Reduced consumption, foot traffic, and canceled events — especially the much anticipated Tokyo Olympics — have forced brands to reassess their media plans. Out-of-home (OOH) ads have been pulled from trains, stations, and the once ad-vibrant Shibuya district as COVID-19 accelerates online ad spend. In 2019, internet ad revenue topped TV for the first time in Japan and it's still growing. 
Stay-at-home habits cultivated during lockdown will likely persist, with digital wellness, online entertainment, and e-groceries continuing to grow. Japan saw a 102% growth in online fitness, while more digitally inclined European and Chinese consumers increased consumption across wellness apps, remote learning, and telemedicine, a Mckinsey report revealed. In France, telemedicine soared by 219%, while Spain, the UK, and China saw wellness apps grow by 73%, 33%, and 30% respectively. Remote learning also picked up in China (34%), Spain (44%), and the UK (62%). 
Japan's online streaming user growth increased by 18%, higher than countries like China, France, Spain, and the UK, which also saw a surge in esports interests. As US consumers adopt new online purchase habits including purchasing pre-owned products online and through social media, Japanese consumers are also discovering new online shopping habits through proactive search and online ads. Music streaming has also increased and now includes a broader audience of older consumers. 
As brands increase online advertising, one can expect less mass advertising and more targeted programmatic ads with clear ROI KPIs. Disruptions and alternative scenarios will become part of ad budget discussions and a factor in event planning. While brands like Toyota and Visa have pivoted their pre-planned Olympics ads to reflect the pandemic, many have postponed their ad campaigns entirely. 
As businesses plan ahead and redistribute media budgets into 2021, it's important not to go dark, as maintaining ad spend accordingly is crucial to sustaining brand growth. 
Authenticity is king
In times of uncertainty, consumers value authenticity and empathy more than ever. For advertisers adopting the right messaging, tone, and transparency is crucial. 
Brands are taking on additional roles in championing well-being and being a source of truth. Kao, a cosmetics company with its own hand sanitizing and soap line, has done this with consolidated lifestyle hygiene information on its website and handwashing video ads shared across digital channels. Unilever's emphasis on "moments of comfort, connection, and celebration" saw food seasoning brand Knorr launch [email protected] across six European markets to inspire customers with healthy, restaurant-standard recipes, while organic tea company Pukka partnered with a yoga teacher to conduct live yoga sessions in France. 
As important as it is to be heard, listening and responding to shifting consumer needs allow businesses to discover hidden opportunities. Uniqlo, while initially skeptical of producing face masks, gave in to overwhelming consumer requests to produce the AIRism mask that sold out within hours of its debut.
Crises present opportunities for those willing to take a leap. As Japan continues to ride out the storm, businesses that innovate will build a solid foundation for post-COVID growth. 
Haruya Yamashita is in charge of Demand Sales and Business Development at SpotX in Japan, where he is responsible for advertising sales with ad agencies and DSPs. With years of experience on the agency side working with broadcasters and major distribution advertisers, Haruya focuses on developing digital marketing growth in the online video and OTT space for Japanese media agencies and publishers.