SpotX Connect: A New Frontier for Video Advertising
Greetings Earthlings! 
SpotX is coming to you live from planet Earth as we recap another lap around the sun and the findings from our third annual SpotX Connect conference. This year, the event brought together over 200 elite industry players to navigate some of the ad-tech universe's black holes. Leading TV brands in attendance including Roku, TiVo, Samsung, Vizio, TV[R]EV, and FOX discussed the galactic swings in video advertising trends we've seen in 2019, and speculated on what's to come for 2020.
The past year has marked a skyrocketing number of new streaming services, and an increasingly complex universe of device manufacturers and programmers. How can these wide-ranging players build services that capture a share of the ad dollars that will inevitably flow into OTT? Moderator Mike Shields, veteran media editor and journalist, interrogated this question during our first panel: "Ad-Supported OTT: Media Goes DTC." Together, we concluded that, with the rise of direct-to-consumer apps, media owners are making strategic decisions around distribution, determining in which cases they want to take back content to bundle into their owned-and-operated platforms. We expect to see more of these tradeoffs next year as new entrants continue to jump into the streaming wars.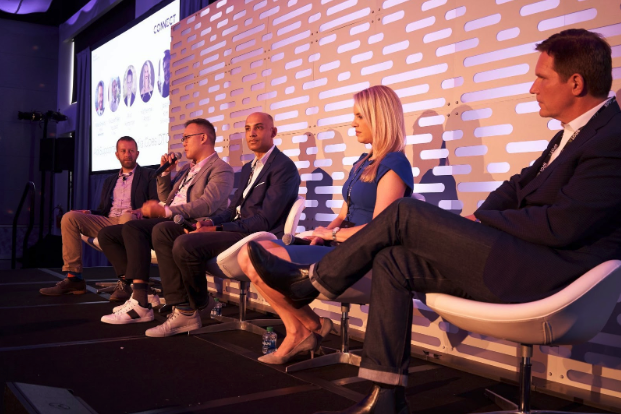 As OTT continues to grow, the channel is bound to become more prominent in the overall media mix. For example, how will granular CTV targeting, or increased access to viewer data, influence advertising in the ongoing Democratic primaries and 2020 election? Our second panel, "A Constellation of New Opportunities in Political Advertising," staked out this new territory.  Panel experts from DoubleVerify, Tru Optik, Well & Lighthouse, Fox, and the IAB all agreed—the upcoming election cycle will bring record spend that looks very different than years past. As campaign budgets increase, advertisers will face stiffer competition for premium video inventory, which is increasingly fragmented across many popular set-top devices and streaming apps. . Fortunately, a Total Video strategy can tie together campaigns across all screens and all streams, supercharging brands' ability to bridge the gap between TV and digital video.
Finally, we wrapped up with a keynote address on "The Current State and Future of Addressable Advertising," featuring Mike Shields and Alan Wolk, the co-founder and OTT guru at TV[R]EV. The industry veterans shared their predictions about the future of TV advertising, which they expect to include fewer, better targeted ads for which brands won't mind paying more and consumers won't mind watching. The good news is that there is already a growing appetite for addressable as everyone (more or less) acknowledges the advantages of incorporating CTV budgets alongside linear. But in order to realize this future, the industry still needs to make addressable easier to navigate. Whether progress comes through the magic of dynamic ad insertion (DAI) or coalitions like Project OAR, ad experiences must become more seamless and personalized for the consumer in 2020 to unlock the full potential of CTV and OTT.
We're excited to continue the CTV conversation over the next year and beyond! In the meantime, you can check out our photo album wrap-up from the event here.
Watch the full sessions from SpotX Connect below: