SpotX Celebrates with Wish for Wheels
At SpotX, we believe that rewarding and celebrating the dedication of our team is key to building a healthy company culture. That's why, this year, we celebrated SpotXers' 3-, 5-, and 10-year work anniversaries by volunteering in our local community. SpotX teamed up with Wish for Wheels and the Boys and Girls Club of Denver to donate 25 new bicycles and helmets to children in a low-income community.
For a young child, a bicycle is a symbol of independence, responsibility, and freedom. Not to mention—bikes are fun! During the event, SpotXers split up into teams of two to assemble the bikes as part of a team-building activity. We then presented them to their youthful new owners and helped them decorate their new bikes with stickers and streamers. Afterward, Wish for Wheels will follow up with the Boys and Girls Club program to help the kids develop healthy habits and structure and keep them active on their bikes.
"The smiles on the kids' faces were priceless. What an amazing event that SpotX sponsored for Wish for Wheels. It was a fun way for the team to work on our communication skills, and it was a heartwarming experience to be able to use our own good fortune at SpotX to provide bikes to those in need. I'm really looking forward to more events where the SpotX team can give back to our communities." – Allen Klosowski, VP, Mobile and Connected Devices
"Wish for Wheels was an awesome volunteering experience for a multitude of reasons. Before this event, most of us had never built a bike before in our lives. However, by the end of the day we could build bikes blindfolded (literally). We all had such a blast working together and learning a new skill. But above all, getting to see the looks on the kids faces as they picked out and decorated their new bikes was priceless!" – Julie Dirks, Senior Manager, Brand Safety & Inventory Operations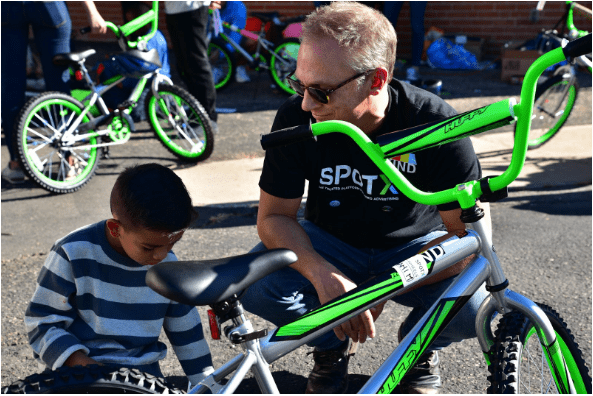 "I loved our event with Wish for Wheels. It was a really fun and effective team-building experience. But the best part was building a new bike for a sweet kid who's never had one before – and then helping him get it tricked out. I don't know how anyone could participate in a Wish for Wheels event and not feel terrific afterwards. And even better to share it with my awesome SpotX colleagues." – Steve Swoboda, COO/CFO & Co-Founder | SpotX
Wish for Wheels' mission is to transform the lives of kids from low-income families, through the gift of a new bicycle, broadening their scope for personal growth and a healthy lifestyle.
Boys and Girls Club's mission is to empower every Club member, through safe and impactful experiences, to: graduate high school with a plan for college or career, contribute to their community and live a healthy life.