Reach Consumers at Every Step of the Buying Cycle with a Total Video Strategy
2018 was a record-breaking year for digital video and TV advertising with another huge year-over-year increase.
One of the major drivers of growth was the emergence of over-the-top (OTT) and connected TV (CTV) fueled by an increase in audience size and amount of inventory available for advertisers.
The number of connected TVs globally increased almost 40 percent in the past few years from 486.7 million in 2015 to 673.4 million in 2017 with estimates that hit over 750 million for 2018.
Learn more: 2019 Video Advertising Trends
Advertisers are understandably excited about the possibilities of OTT and many are now considering OTT as an essential component of their media plan as they seek to capture cord-cutters and digital natives who are shifting to OTT in large numbers.
The rapid growth of digital video has been driven by consumer desire for accessibility — greater convenience, more immediacy, more options, and fuller experiences. Advertising plays a key role in enabling emerging channels to flourish and in many cases it supports the content that fuels the purpose and the growth of those channels.
As traditional TV budgets begin to shift towards TV Everywhere and a call from advertisers to target one-to-one instead of one-to-many gains traction, we'll see this amplify the maturity of currently nascent channels — especially CTV.
However, in order to truly maximize the benefit of OTT, it should be considered as part of a holistic cross-platform video strategy.
Fast forward your 2019 campaigns with a Total Video strategy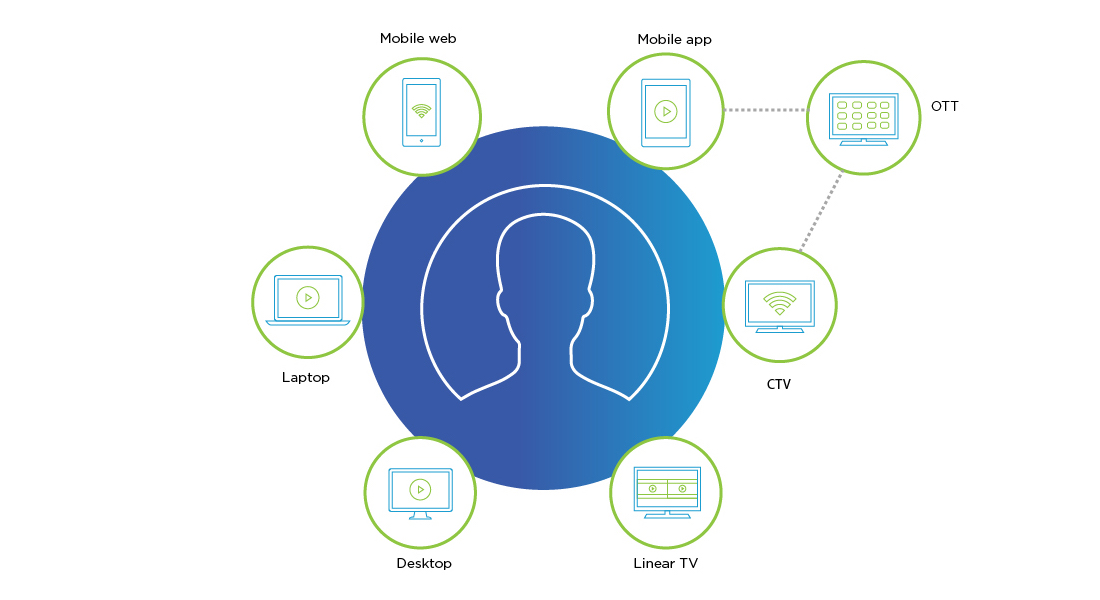 OTT is an excellent way to reach certain audiences, but as scale continues to ramp up it is most effective when complemented by online video including pre-roll, mid-roll, post-roll, and interstitials.
A Total Video strategy combining the strengths of online video and emergent OTT/CTV enables brands to reach and connect with consumers at varying points in the shopping cycle.
Differing unit types on different channels within different content all add up to reaching the consumer in the places they choose to spend time — from phone to remote.
The IAB reported that advertisers budgeted 30 percent more towards cross-platform video from 2016 to 2018, and we expect that trend to continue.
Consider the example of Jim the sports fan. Jim is in his early-30s. He's a cable TV customer, but he also subscribes to several ad-supported OTT services that he watches regularly on his CTV while at home and on his tablet when he's traveling for work.
Like many sports fans, Jim watches his favorite team live — sometimes through cable, sometimes through an app. He'll also watch highlights of other games, check out post-game reports, and read the occasional opinion column. He's in a fantasy league, and he has a favorite mobile app for scores and updates. There is no one single way to reach Jim at each of these touchpoints without a holistic video strategy.
Linear TV misses all of the digital experience, which is considerable. CTV misses the time Jim spends on other devices and consuming editorial content. Desktop and mobile miss the time Jim spends on the couch in front of the big screen.
A disconnected strategy results in a disconnected conversation with the audience, which is why it's so important not just to think about being on certain channels but also how those channels are complementary to one another.
A Total Video strategy is about being where the customer is and being part of the moments that matter, so that there is cohesion, relevance, and impact when we connect with the consumer.
Click here to learn more about how SpotX helps media owners, publishers, and advertisers reach audiences across all screens and all streams.
This article was written by Paul Calderbank, senior marketing manager at SpotX.