Online Video: 14 Experts Weigh in on Global Challenges and Opportunities
2018 was a record-breaking year for digital and online video with another huge year-over-year increase in spend.
Global total media ad spend was estimated at $628.63 billion for 2018  — with digital accounting for 43.5 percent of investments — including growth in all ad formats.
In the online video segment of the overall video advertising ecosystem — specifically desktop and mobile — there have been many developments around the globe, presenting new advertising challenges and opportunities for buyers, sellers, and tech vendors.
These developments in the advertising ecosystem in 2018 give us a lot of insight regarding what's to come this year, so we asked 14 industry experts to provide their thoughts on the following question:
"What challenges do you see for buyers and sellers in the online video advertising ecosystem this year, and what suggestions or solutions do you have for taking advantage of the trends happening in the industry?"
Check out the valuable insights below from a diverse group of global publishers, advertisers, and ad tech vendors to learn more about how to approach the challenges and opportunities for online video in 2019.
Liz Sargent, VP of technical services at JW Player
Transparency and fairness are the top challenges we see on both the buy-side and sell-side of the ad ecosystem.
There is a growing need for buyers to understand more about the video — often the URL category does not correlate with the video content on the page or article.
Moving towards contextual video targeting will be able to improve effectiveness for buyers and maximize revenue potential for sellers. There are also clear benefits for areas of the world moving away from heavy reliance on user targeting.
This year, I believe we will see increased adoption in header bidding technology for video. Correct bidding implementation should maximize a seller's revenue opportunity and foster fair competition between buyers. New, easy-to-use, tools like JW Player's Video Player Bidding solution can expand the usage of bidding without relying on an ad server.
Grandin Harrison, VP of revenue operations at SendtoNews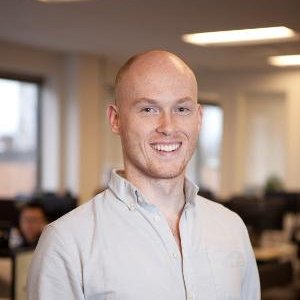 Contextual relevance will become a very important piece of the brand safety puzzle, leading advertisers to look beyond social media platforms.  Smart buyers will focus on context of placement (i.e., an article about last night's game with the relevant video highlights embedded) along with verified audience insights and content that's relevant to user interests to ensure their brand is well received.
We are going to see a clawback of advertisers putting all their eggs in the OTT or in-app basket.  With industry standards like app-ads.txt coming into play, advertisers must diversify multi-screen campaigns to ensure the supply of premium inventory doesn't dry up.  For example, advertisers looking at sports will need to reach both the fan on the in-app or OTT live stream as well as the fan watching the short form OLV highlights on their favorite local publication after the game.  
New cross-platform measurement standards (like a recent proposal of 100% of pixels in view for viewability consideration across all platforms) will inch closer to becoming industry standard but will still remain elusive by year end. Buyers should look for sellers who take strides to implement these standards ahead of them becoming the new norm as well as ones who have been ahead of the curve when historically adopting industry shifts.
Georgina Fox, publishers partnerships and supply director at GroupM
The online video market in Australia has matured, and both buyers and sellers have become increasingly sophisticated in their wants, needs and expectations. As a buyer, we're continually working to increase our access, connect with and support quality content and effectively measure our buys. Oftentimes, challenges faced by buyers are also faced by sellers and the solutions are mutually beneficial.
Measurement continues to be imperative to the brands we represent, and with the proliferation of devices and decrease in overall desktop usage, it's important that measuring metrics such as viewability goes beyond VPAID. Vast 4.1 will be hugely beneficial to buyers and sellers who will be able to measure across all platforms, and when using SSAI.
Buyers want access to top quality content, without being confined to designated groupings at the ad server level, and for publishers, yield management and effective collision and category management is of utmost importance, particularly in the BVOD environment. Video header bidding will provide a solution to both, publishers are able to set brand and category management rules at the Ad server level, and maximise their yield by opening their supply to all demand sources, and buyers benefit from increased inventory access and the ability to compete with all demand, direct, and programmatic.
If we can work as an industry to drive Vast 4.1 forward and push for 2019 to be the end of the traditional publisher waterfall there are innumerable benefits we can all take advantage of. Buyers can look forward to holistic measurability, quality professionally created content, and inventory access and sellers can reap the benefits of a low latency, enhanced video standard that can be implemented on all screens, at the same time as maximising their yield, managing exclusivities and amplifying user experience.
Jordan King, director of audience and automation Nine Entertainment
For too long the online video ecosystem has been hamstrung by two separate but related issues.
On one side, you had the promise of addressability, but the solution often lacked in both the quality of data sources and the quantity of inventory. However, in 2019 there are developments that will go a long way in solving both challenges.
Addressable advertising will bring a new level of sophistication to buying premium video that has never existed before, while the take up of video header bidding is unlocking previously unseen scale for the buy-side and a more sophisticated understanding of inventory for the sell side, which will improve video advertising and increase its value to buyers, sellers and consumers alike.
The emergence of addressable video advertising from a loosely defined concept (I think its readily acknowledged that declared data is the fuel that fires the engine of addressable advertising), to a tangible and functioning product has been a pivotal development for the industry.
The ability to be able to speak to a declared and engaged audience, with targeted advertising that is informative but not interruptive is an incredibly powerful tool for marketers to be able to deploy alongside professionally generated content.
As we see the scale of digital audiences continue to increase and as we see the sophistication of addressable tools develop, reaching a declared and relevant audience will only become more prevalent and accessible for buyers. Engaging with buyers, publishers and tech vendors who are at the forefront of understanding these developments will help marketers stay atop of this rapidly changing space and hopefully give them a competitive edge in achieving their goals.
Header bidding will continue to have a major impact on the digital video landscape into 2020 and beyond. The most exciting development here from a publishers' perspective is the expansion in header bidding and server-side ad insertion (SSAI). Already, SSAI is having transformative impact on the video landscape. Gone are the days of programmatic buying where buyers lacked full visibility over inventory from SSAI sources; with the development of header bidding for SSAI buyers will be able to access inventory at a scale previously unseen. This will allow marketers to capitalise on the change in consumer habits, (as mobile in app and connected TVs become more central in the marketing toolkit) and deliver a more effective and improved consumer experience.
The ability for buyers to be able to see more of a publisher's inventory will help with the development and sophistication of Addressable video advertising, while the ability for a publisher to expose all their inventory to buyers allows for significantly more sophisticated pricing models and increase the bid density of supply.
In amongst all the distractions of development and changes in video in 2019, in my opinion, the two factors that will define the online video medium into 2020 and beyond are centred on capitalising on the power of addressable advertising to ensure a more effective ad spend and the expansion of header bidding facilitating the scale required for marketers to achieve their advertising goals.
Sven Hagemeier, inventory partnerships director, EMEA at The Trade Desk
With online video consumption skyrocketing and new channels and formats of video advertising emerging, supply of video inventory is becoming increasingly fragmented and complex for ad buyers to manage. To avoid this complexity, some buyers are directing the majority of their ad spend towards global video platforms. While this may be the easy route it means that buyers miss out on amazing opportunities in the open ecosystem. Working with trusted technology partners that can take care of the complexity of the ecosystem enables buyers to run video campaigns in transparent, brand-safe environments of premium publishers – all the while maintaining scale, full control and potentially even higher cost efficiency.
And through these independent partners they can also get access to what is probably one of the biggest shifts in media in many years – TV becoming connected! Connected TV means ad buyers can run campaigns next to premium TV content, on the big screen in consumer's living rooms, with more targeting options, more control over frequency, and more measurement capabilities than in traditional, linear TV.
Flaminia Sapori, partnerships director at Cadreon
Challenge number one would be cross-device and cross-screen measurement. The market demands for industry experts to reach and measure deduped audiences across screens and devices as fluidly as possible. However, due to technical and planning purposes, we continue to utilise IOs, which does not allow for the demanded flexibility. Data will play a central part in this ecosystem.
Across mobile specifically, we also have the measurement challenge. Although the IAB has rolled out VAST 4.1 — which should solve most of our problems — publishers adoption is very slow and the majority of them still rely on VPAID and VAST 2.0 integrations.
The advancement of header bidding within the video ecosystem will also require the adoption of different workflows. Moving to a header bidding model will mean new bidding strategies and new level of complexity with trading standards moving further away from trading consolidation.
Another challenge we are facing is the currency of attention metrics, as well as the advertisers and media groups increasing adoption of custom viewability definitions that do not comply with the MRC standards. We have seen this impact not only buy and sell efficiencies but also in how we scale success for these clients.
We should also mention the current market challenges with short-form content. With the need for video supply and its constraints with the traditional short-form players looking to increase their video share through out-stream, there's been an explosion of variety and differing supply opportunities which makes maintaining performance metrics challenging; particularly considering the diverse commercial models we see.
Looking at current trends and opportunities, brand safety breaches within UGC platforms can be seen as an opportunity for publishers in this ecosystem. We have seen clients taking large budgets from platforms like YouTube and re-investing into premium publisher inventory. Therefore there is an opportunity for premium publishers to invest in similar products that boasts 6-second creatives. This will make budget reallocation easier for the buyer and planner whilst delivering on brand-safe environment requirements.
Tal Almany, senior director of advanced integrations at SpotX
We can all agree that 2018 was a banner year for OTT. Now that we have established that, I feel that it's time we gave online video (OLV) some of the love it deserves. Some may say that we, as an industry, forgot about OLV in the past few years with all the talk about OTT, but I believe that's an extreme way of thinking about it.. We didn't forget, we just put the more senior OLV into a corner and didn't give it any love, food, or attention. It may have taken a little while, but there has been a renewed energy around the developments in OLV so far in 2019 and even more focus on this section of the video advertising ecosystem.
Now, OLV may not be as sexy or shiny as OTT, but there is a lot of good to still be had there and a lot of opportunity — both from a buyer and seller perspective. In fact, traditional OLV makes up a very large portion of spend on the SpotX Platform.
We rejiggered our advanced integrations suite to reflect the needs of these OLV publishers — and even introduced new ways for OTT heavy partners to utilize them. We also took a long, deep look into our marketplace and realized that we needed to introduce our buyers back into the open market. The last few years have proven to be wild in the sense that a majority of buying, especially with video, has been transacted in the private market.
SpotX spent countless months working with the buy-side to bring more spend through the private market. We most definitely would not want to undo that, but we do however see tons of value in transacting in the open market as well. It was completely understandable why buyers didn't want to mess with the open marketplace at the time and why they moved budgets over to the private market, but nowadays — at least for SpotX — the open market is chock full of clean, brand-safe OLV inventory from high-quality publishers at a fraction of the cost of similar (or the same) inventory in private marketplaces. My prediction for this year is that buyers will start testing the waters here and see that there is value and will start moving some OLV budgets this way.
From George Iosif, programmatic advertising development manager at Gameloft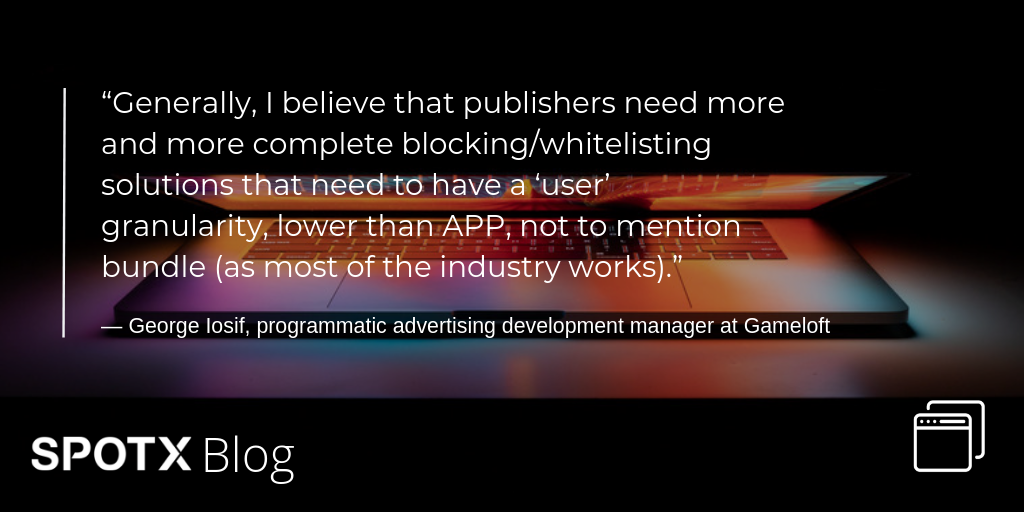 From my side, just a few comments about ad quality.
I believe that the blocking systems on SSP sides need to suffer real adjustments in the sense that we cannot rely only on IAB categories or domains which are – how to say this – unsatisfying.
Generally, I believe that publishers need more and more complete blocking/whitelisting solutions that need to have a "user" granularity, lower than APP, not to mention bundle (as most of the industry works). I mean cluster of users created by country and game when different rules can be defined.
Another great thing would be post-win notification requests made for blocking purposes. So an undesired ad would not be delivered anymore (hence not win on SSP side), this resulting in better conversion rates and less post-deal work and communication.
Since user is king, every publisher goes in this direction. So I believe it to be quite important.
From Grigore Paul Petrescu, programmatic advertising integration and creative support manager at Gameloft
Due to the expanse of the video format in the industry, publishers need to rely also on their non-incentivized video slots, hence the need to access a more adapted demand of 5-20 seconds videos that would perform better in terms of click rates (than the one minute demand).
This also translates into a better transparency for buyers at the SSP level in terms of video slot type (rewarded or not).
A faster adoption of VAST 4.1 would enable clients on accessing required viewability statistics and required data without having to resort to VPAID, which is generally non-standardized, thus resulting not only in not being displayed properly but also higher loading times.
Shaun Glover, head of programmatic and ad operations at Mamamia
Buyer perspective of online video is undergoing a realignment. Video marketers are becoming further empowered as they negotiate the evolving advertising landscape; the digital video touchpoints across which brands can connect with addressable audiences continue to grow both in presence, and in their import to consumers.
The proliferation of CTVs stands as a marked example of how an evolution in key consumer hardware can directly instil brands with new digital opportunity, and transmit significant change to the accepted dynamics under which buyers and sellers have previously transacted.
While the advent of CTV has imparted opportunity to sellers who can offer integrated OTT products, publishers of web-based video need not feel as if there's no new grounds on the horizon. As data speed limitations fade further in future, technological advances like the introduction of 5g will expedite the pivot into richer, video-centric executions across web offerings.
2019 will be a test bed for web publishers seeking to get in front of the changing language of online video, both from an advertising, and a product offering standpoint. Highest reward will be had by those sellers that focus on crafting compelling video content with meaningful identity, while fostering buyer appetite for valuable brand integrations that can be appropriately matched to the content's form.
Some sellers will pursue growth through a key focus on platform, while others will lean harder on narrative, but the most successful will be those who maintain a core focus on capturing audience constancy by pairing worthwhile video inclusions with advertising elements that match user expectations and fluency. Such branding opportunities will continue to live 'on-site' but, for publishers seeking to secure increasingly variegated media spends, capturing the attention of buyers may necessitate a fundamental shift in the strategies that inform their ongoing presentation, and utilisation of video.
Tim Armstrong, general manager of advertising technology at Switch Media
When we look at the incredible pace of change and activity in the video advertising ecosystem for buyers and sellers, it can be encompassed under the below points:
Exponential growth in live video advertising

Increasing fragmentation at speed

Consolidation putting pressure on inventory and pricing

Lack of adoption and alignment with industry standards
Programmatic still remains promising, but complexities emerge where efficiencies are gained. What can we proactively do to mitigate and work towards gaining more control over these challenges?
1. Continue pushing education and for transparency.
Transparency is broad and mostly misunderstood, and the focus is often on technology when human communication is the larger, more addressable component. The supply chain needs to be declaring limitations in capability, ability, and functionality — especially in a sector which is getting more fragmented by the day. With this, one of the desired outcomes should be to determine where one sits: Are they enablers or traders and what do they need to know?
2. Put more focus on your company's core objectives and long-term sustainability.
Every buyer and seller must run their own race, and the industry will continue to evolve around you. Focusing on what your business needs to do will ensure that your customers are the top priority and benefits are compiled day after day. For buyers and sellers, this is incredibly important: Strategies should evolve with customers and the market. We are moving back to a market where there is more supply than demand — challenging current prices, pushing premium, and driving strategic agility.
3. Better awareness and assessment of new technologies is imperative.
Keeping on top of the latest technologies in-market is imperative to support the informed decisioning for buyers and sellers. Technologies, such as server-side ad insertion, improve the quality of inventory, support 1:1 ad personalisation, and result in more supply with the likes of live content. Buyers and sellers need to determine and articulate technologies, costs, value, and opportunity.
4. Aim for standards and guideline compliance.
Fragmentation within the industry creates ambiguity for buyers and sellers. From a video perspective, VAST 4/4.1 play a huge part of this, and so does the Open Measurement SDK.  These standards and guidelines are created and put in place to help the ecosystem, and they will even aid shifts from traditional to modern viewing. Proactive involvement with industry bodies and governing initiatives is going to be a vital activity to help move the industry forward.  This involves collaborating with customers, partners, competitors, and others.
Chris Hanson, video specialist, commercial at Mail Metro Media
A bigger focus needs to be on brands and their creative agencies considering short-form video formats from the beginning of the creative process, bespoke to digital devices, rather than creating a 6-10 second edit of a traditional TV advert. Combined with this needed shift in creativity, we should define what effective video metrics look like.
Video is consumed across a multitude of platforms which offer differing benefits, guarantees and models; so we should try to develop similar KPIs that we can apply to all platforms. If we can create a universal comparison it will allow online video to compete with more established channels, such as TV & premium VOD services. Ultimately, this will help clients in measuring and reporting on the incremental reach and ROI that online video provides.
Dan Tyers, digital sales director at Reach Solutions
Brand safety is an ongoing issue for both buyers and sellers and with that evolving over the last 12-18 months to brand suitability, it now means businesses such as ourselves have additional commercial challenges. Now our news is never blocked or censored, but clearly our business model is compromised which is a massive issue for us. We don't shirk from important issues, us along with other newsbrands lead the way, yet advertisers have an exaggerated sensitivity/fear that consumers, on Twitter, will make their lives difficult by screaming that a toilet roll manufacturer supports terrorism because they run ads in proximity to some serious news.
Now let's be clear, I am not suggesting that we run ads before say extreme videos, we have clear guidelines that mobile phone footage in the aftermath of a terror attack will not contain a pre roll, but a political statement on terror attacks professional produced and edited, essentially delivering editorial in keeping with our remit should be deemed as acceptable, no? Ultimately we work to the Independent Press Standards Organisation (IPSO) guidelines and are governed by U.K. law on areas such as libel, obscenity and other legal constraints unlike some other media owners I could mention.
My biggest fear is we reach a scenario where agencies and advertisers are essentially influencing what content newsbrands publish in order for them to maintain a sustainable and commercially viable business model and in doing so compromising our editorial integrity and indeed our users right to independent free news. I think agencies and indeed publishers along with the likes of Newsworks and the IAB need to come together to better educate advertisers to understand their association with content deemed non-brand-safe and we're in the process of undertaking research studies to bring this topic into the mainstream.
Lexie Pike, product marketing manager at Brightcove
Every year should be the year of the user, and 2019 is no exception. In fact, this year the industry seems particularly focused on user experience and personalization. A key trend that lies in the heart of this as an overarching theme is interactivity. However, there are still inherent challenges associated with interactivity like device limitations and lack of industry adoption for supporting standards.
In 2018, interactivity was a force to be reckoned with in the digital media world. And that shouldn't be particularly surprising. After all, this technology enables media companies and brands to create engaging content — from interactive shoppable video to Netflix's Black Mirror Bandersnatch —  for a variety of different audiences and platforms. At the IAB Tech Lab Video Summit in December, the IAB Tech Lab further validated this trend by announcing the deprecation of VPAID, paving the way for new standards specifically built for interactivity like VPAID-i and SIVIC.
Brightcove's advice to buyers and sellers? Buyers — Get creative. Start experimenting with interactive creatives that are compliant with industry standards set by the IAB and MRC and confirm that your supply side partners are able to support those creative types. Sellers — Get ready. Make sure your player supports interactivity across all devices. Here at Brightcove, we're supporting clickable ad creatives for server-side ad insertion (SSAI), where interactivity historically hasn't been available.
Click here to learn more about this year's top video advertising trends.