Media Owners and Advertisers Are Ready for the Future of Addressable Linear TV
Addressable TV is finally a reality for advertisers looking to leverage the power of programmatic to target individual households within linear television commercial breaks. The US addressable TV market is predicted to reach $3.49 billion in 2021, though it may even surpass that thanks to new technologies and the fact that programmers, in addition to MVPDs, now have the capability to sell addressable.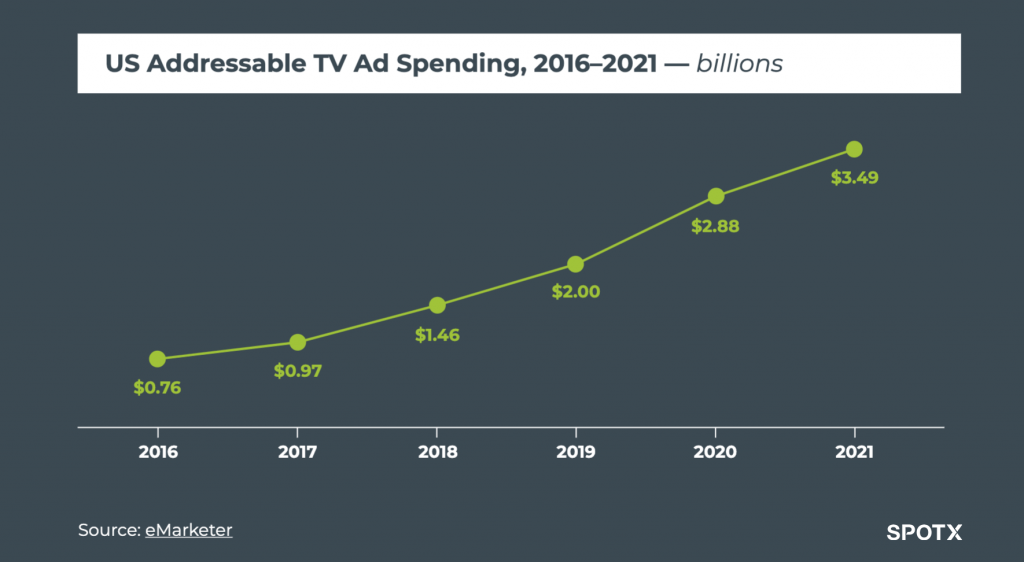 With programmers entering the market, available addressable video-on-demand (VOD) and live linear inventory is skyrocketing, whether that's through direct integrations with set-top boxes, or through replacement at the smart TV level in partnership with consortiums like Project OAR. 
The Beet.TV series, "Addressable Advertising: A New Reality for Linear TV," presented by SpotX, features leaders at the forefront of addressable advertising. Here's how both the sell and buy sides are following that growth and advancing their addressable capabilities. 
Unlocking new addressable TV opportunities
AMC Networks is quickly scaling its addressable TV offering. "Addressable advertising historically has been at the local level. We've been able to launch and deliver national addressability targeting on our linear channels," Evan Adlman, SVP of Advanced Advertising and Digital Partnerships at AMC Networks, told Beet.TV.
That's a win for advertisers, as they don't have to stitch together a campaign from various endpoints, but rather can reach AMC Network's entire national footprint across platforms. 
Steve Silvestri, VP of Advanced Advertising at Discovery Communications, also sees a clear path to an addressable future. Silvestri says, "We have tremendous scale that we can apply to an 18-network portfolio. We all recognize there's a long road ahead here, and a lot that needs to be learned in terms of how programmers are going to light up national inventory." 
"But we have a path for that, and for us, it's going to start in VOD," he continued, highlighting plans for later this year when Discovery will start to apply linear opportunities to some of its networks and begin testing more dynamic ad insertion. 
As a vMVPD, Sling has always had a programmatic-first, impression-based approach that relies on deterministic data. "Over the last year, we've taken that approach and we've expanded it into our traditional DISH business," says Dave Antonelli, Director of Sling TV Ad Sales Strategy at DISH Media, noting how DISH has enabled set-top box VOD inventory programmatically and begun offering linear addressable inventory alongside connected TV (CTV) inventory. 
Advertisers have been asking for customizable targeting, which includes targeting by contextual and deterministic data. With more options and more addressable inventory available, "advertisers can hit very specific audiences in content that they're familiar with reaching through linear, but with those benefits of digital," says Antonelli.
"Over the last 18 months, addressable has evolved to be something that buyers both on the agency and marketer side themselves really do care about because the scale is there," says Mike Fisher, VP of Advanced TV and Audio at Essence.
The ability to better target a message to a specific household is an exciting one. It's not all about replacing one brand's ads with another, but rather making linear ad units "work smarter, harder, and better by customizing the message and customizing the creative," says Fisher. 
New challenges for the industry to tackle
As addressable grows — both advertiser demand and inventory availability — programmatic buying will become more important in accessing inventory. For GroupM, programmatic CTV is its fastest area of growth, but it doesn't come without challenges.  
Mike Moore, Director of Programmatic Development at GroupM, says, "It's definitely a tough landscape to navigate…there are quite a few different players and points of access to ultimately deliver what, for a consumer, is just an ad on the screen." The agency aims to provide its clients with more clarity and insight to the supply side, for instance through its preferred partnership with SpotX, and transparency will continue to be a focus as programmatic grows. 
Metrics and measurement are also still a challenge for both the buy and sell side, says Adlman. The industry needs common currencies across different inventory types. "I think as we look forward in the coming year, there's going to be a lot of adoption around measurement: agreeing on measurement as well as the way that deals perform," he says.
Another key challenge is ensuring a strong user experience in linear environments. With addressable, marketers can improve targeting for better relevancy and thus a better viewer experience. And, combining linear addressable and OTT into one platform through programmatic pipes helps with consistent measurement, but also provides holistic controls over frequency capping and pacing to deliver the optimal ad break. 
The future is bright for addressable TV
There are many drivers of growth in 2021, including new technologies, bringing programmatic to linear, and new measurement capabilities. But perhaps the most immediate is that programmers — who own the lion's share of linear inventory — are selling addressable for the first time. Programmers own about 14 minutes of ad time out of every hour of linear TV, so enabling addressability within this pool of inventory really means the sky's the limit in terms of addressable growth. 
We will see more scale, says Fisher, especially as advertisers look to engage target audiences across all screens. He says, "Our approach to addressable buying at scale is, how do we pull all the levers, how do we leverage all the right platforms to find that audience any way we can?"
DISH Media is equally bullish. "Addressable is going to become the core of media campaigns," says Antonelli. 
Learn more about the future of addressable TV in the Beet.TV series, "Addressable Advertising: A New Reality for Linear TV."
Matt McLeggon is Vice President, Advanced TV at SpotX. In this role, Matt is focused on the continued growth of SpotX's rapidly expanding OTT business, as well as new initiatives in the addressable television and cross-platform space. SpotX is ubiquitous in the world of OTT, working with the world's leading television programmers, vMVDPs, device manufacturers, and digital-first streaming service providers. Relative to the broader world of online video, OTT media owners face a unique set of challenges — from live event monetization to merging linear and digital sales operations. At SpotX, Matt oversees a wide range of cross-functional strategies and initiatives aimed at ensuring that SpotX embodies both thought and technology leadership in addressing these evolving OTT-specific needs. 
Matt has over a decade of experience in advertising technology, having cut his teeth building technology and data partnerships for FreeWheel as it grew from a small startup into an industry powerhouse that was acquired by Comcast. Prior to his time in ad tech and media, Matt earned a bachelor's degree from Brown University and an MBA from the Haas School of Business at UC Berkeley.