How CTV Buyers Can Avoid the Pitfalls of Fragmented Supply
Many advertisers are currently asking themselves how much weight CTV should carry in their next media plan. It is now widely accepted that 2020 was the tipping point for CTV – but some advertisers are still holding back because of how fragmented the ad inventory is.
The CTV ecosystem is crowded and complex.
Unlike the traditional TV space, which sees modest changes from year to year, the CTV ecosystem is rapidly evolving. Not only are the number of CTV viewers continuously growing, so too are the ways in which viewers can access content. New streaming services, apps, and enhanced experiences provided by device manufacturers have all contributed to what has become an expansive universe of viewing options with multiple entry points.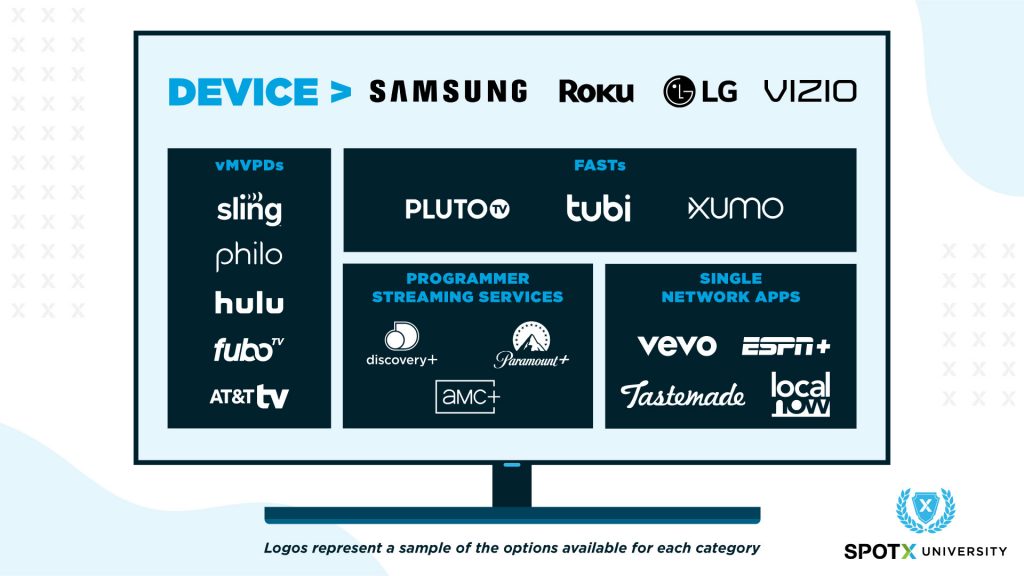 Despite CTV's phenomenal growth, the reality is that true scale cannot be achieved through a single provider. There are very few ad-supported streaming services that can deliver more than 25% of US households – meaning it is necessary to utilize multiple inventory sources.
Further complicating the space are the underlying commercial and technology frameworks. Ad sales rights for a single piece of content are often split between the programmer and multiple distributors, including the vMVPDs (e.g. Sling, Philo, Fubo), FASTs (e.g. Pluto, Tubi, Xumo), and device manufacturers (e.g. Roku, Samsung, Vizio).
Attempting to orchestrate multiple channels of supply on a single buy is a heavy lift and presents an almost impossible task when attempting to manage targeted delivery, pacing, frequency control, and price efficiency. Sadly, we see this play out as a poor experience for the consumer, where a given household will see the same ad repeatedly.
A unified source of supply combines inventory availability, frequency control, and price efficiency.
The most effective way for buyers to benefit from the many advantages of CTV and solve the fragmentation challenge is to work with a unified source of supply – where the strength of the buy can empower cost-of-impression savings, and supply channel orchestration can be aligned to ensure effective frequency control.
Working with a trusted supplier will also ensure that inventory quality is carefully managed and fully transparent so that your spend goes to the inventory you intended to buy. 
CTV has become a powerful option for advertisers, but to unlock its true value, most advertisers will need some help along the way, which is why we created the SpotX University Buyer's Guide to CTV. It's packed with practical advice on executing a successful buy.
For additional information, download our Buyer's Guide to CTV playbook, or reach out to your SpotX account representative at [email protected].
Paul Calderbank is the Senior Director of Marketing Insights and Innovation at SpotX, where he leads the development of sales-focused marketing material and is a senior custodian of the SpotX brand. He has an extensive background in media and advertising, including marketing roles at Gannett and Haymarket Media, and leadership roles at several ad agencies. He has served on the management team of a successful startup acquired by Oracle Data Cloud, where he went on to build and manage the Media & Entertainment consultancy team. Originally from Manchester, England, Paul currently lives with his wife and two children in Denver, Colorado.