5 Global Ad Spending Trends Reveal How Video Marketers Can Win in 2021
The past year has seen massive shifts in the video advertising landscape. Traditional power spenders such as travel and automotive put their advertising on hold while other industries — from personal finance to home fitness to online education — invested heavily in video for the first time. 
But for all the pandemic-related disruptions, many of the industry's overarching trends were familiar, albeit kicked into high gear, from the rise of connected TV (CTV) to the growth in data-powered campaigns. As brands and agencies refine their media plans for the year ahead, we compiled the top global video advertising trends for 2021.
Here are a few key opportunities to keep in mind:
1. Digital remains under-indexed — and poised for explosive growth
It's no secret that digital ad budgets typically lag behind consumer behavior. Traditional display campaigns were slow to follow audiences from desktop onto mobile screens. Now, in the world of TV and video, viewership is booming across CTV and over-the-top (OTT) channels, but brand advertising budgets have only begun to budge from linear. 
By adopting a digital-forward video strategy, advertisers can meet consumers where they are and capitalize on this first-mover advantage before the window closes. 
2. Smart TV manufacturers are becoming advertising power brokers
Smart TVs are already the most common way that people watch CTV in the US, Europe, and Australia, and their popularity has put original equipment manufacturers (OEMs) in an envious position. Smart TV ad inventory is growing quickly. Prominent "home" screens are driving deeper engagement with consumers through content discovery panels and free, live TV offerings. 
As smart TVs become the new staple of modern living rooms, manufacturers are also forging new businesses as data brokers, leveraging glass-level measurement to support better campaign tracking and measurement. 
Now is the ideal time for brands to lock arms with these strategic partners, find ways to target incremental audiences, and potentially help influence the roadmap of OEMs' future product and capabilities roadmaps.
3. Ad-supported programming steals the streaming spotlight
Driven in part by the escalating streaming wars, consumers are beginning to report symptoms of paid subscription fatigue. In fact, many audiences are flocking to free streaming alternatives, including ad-supported video-on-demand (AVOD) services, from Samsung Plus, LG Channels, and Vizio WatchFree to stand-alone apps such as Pluto TV.
Advertisers can leverage AVOD to engage hard-to-reach audiences, including cord-cutters and cord-nevers. According to data from Samsung Ads, AVOD reaches roughly 70% of smart TV viewers, and Digital TV Research estimates these services will account for one-third of total OTT revenue by 2025.
4. Household-based targeting becomes table stakes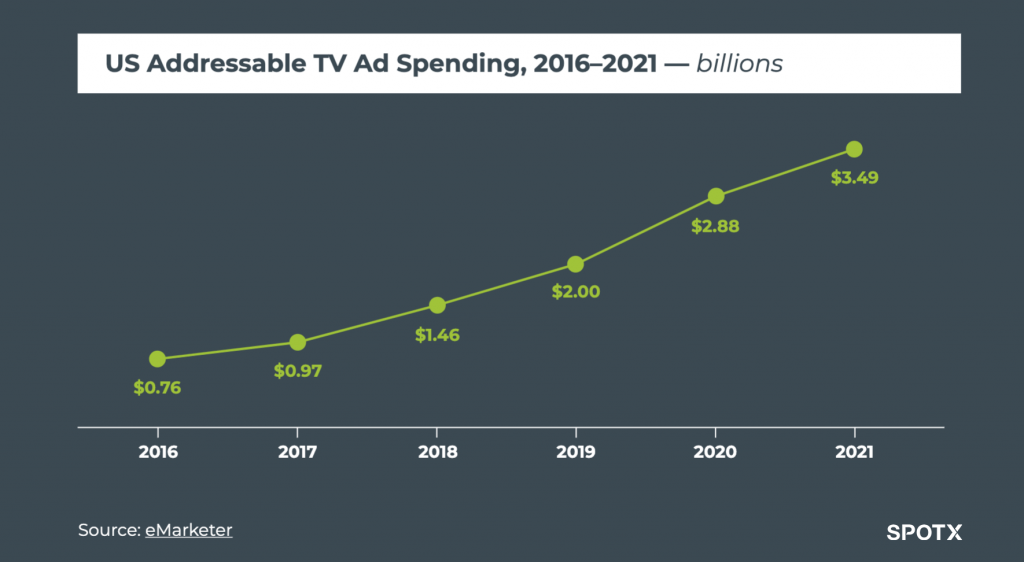 Audience data is playing a bigger role in powering successful video campaigns. In the US, the maturation of programmatic pipes and industry consortiums like Project OAR are enabling more traditional linear budgets to be transacted digitally, making individual linear households "addressable" for the first time — and enabling the category to finally take off.
Globally, as OTT and CTV growth surges — both digital channels that are inherently addressable — advertisers are further refining their campaigns to layer on audience data (think: car enthusiasts or new homeowners) as well as contextual targeting capabilities. Last year, SpotX registered a 145% increase in data-layered OTT campaigns across its platform.
Secure activation of these first- and third-party data segments improves campaign performance while respecting the guardrails of consumer privacy.
5. Programmatic guaranteed provides security during uncertain times
As advertisers combine their cable TV and OTT buys, programmatic guaranteed (PG) has emerged as an ideal format for the omnichannel future. This deal type combines the speed and precision of digital with the personal guarantee of traditional upfront deals. 
Last year, spurred in part by pandemic-related disruptions to traditional programming schedules, SpotX saw PG deals grow by 92% across its platform. These transactions are projected to jump another 154% in 2021.
Expect a continued focus on PG in the year ahead, as buyers and sellers alike seek greater flexibility and the industry awaits signs of a new normal. 
Rachel Sullivan is the Senior Content Marketing Manager at SpotX, where she leads content strategy. She helps shape the stories, insights, and news that leaders across the advertising ecosystem need to advance the industry. Rachel previously managed B2B content and digital marketing for a range of emerging technology companies and has both agency and in-house experience. Outside of work, you can find her traveling the world or exploring her home of New York City.