What Does the Demise of Third-Party Cookies Mean for Ad Tech?
In January, Google shared their plans to phase out support for third-party cookies on Chrome by 2022. Chrome is not the first browser to take this posture. Both Apple's Safari and Mozillia's Firefox took similar stances of blocking third-party cookies by default in June 2017 and June 2019, respectively. But, with Chrome accounting for 60% of all web traffic, this announcement marks the inevitable demise of third-party cookies. 
Before we dig into what the end of third-party cookies means for ad tech, let's revisit what cookies are, the difference between first- and third-party cookies, and the privacy concerns with third-party cookies.
What are cookies? 
In 1994, Lou Montulli, a developer at Netscape, sought to improve website navigation and the user experience by providing a mechanism for web servers to identify visitors and remember information about them. Montulli's solution was a small file stored on a user's browser called a cookie. Each cookie contains a text file with data, often a unique identifier that allows a web server to recognize the user.
Cookies improve the user experience by remembering things like login information, theme selection, preferences and other custom functions. For example, cookies enable online shopping by providing a mechanism for ecommerce sites to remember the items added to a shopper's cart as they navigate throughout the web. 
First- vs Third-Party Cookies
Each time you load a web page using a desktop or mobile web browser, various web servers are sending either first- or third-party cookies to your device for storage. A cookie is considered either first-party or third-party depending on who initiates or sets the cookie. 
First-party cookies are set by the domain of the website you are visiting. For example, if you're on news.com, news.com would set a first-party cookie on your browser with the domain of news.com. 
Third-party cookies are not set by the domain of the website you are visiting, instead they are set by a third-party. For example, if you're on news.com, and SSP ABC, a supply-side platform, has access to the page for the purpose of serving an ad. SSP ABC would set a third-party cookie on your browser with the domain sspabc.com. Once a third-party cookie is set by a vendor, the vendor can "recognize the user" on other websites. 
Third-party cookies are often referred to as tracker cookies, because they allow advertisements to follow you around the web. If you've ever wondered how an advertisement for a sweater you looked at last week on a department store's website appeared on a different website shortly after, third-party cookies were most likely involved.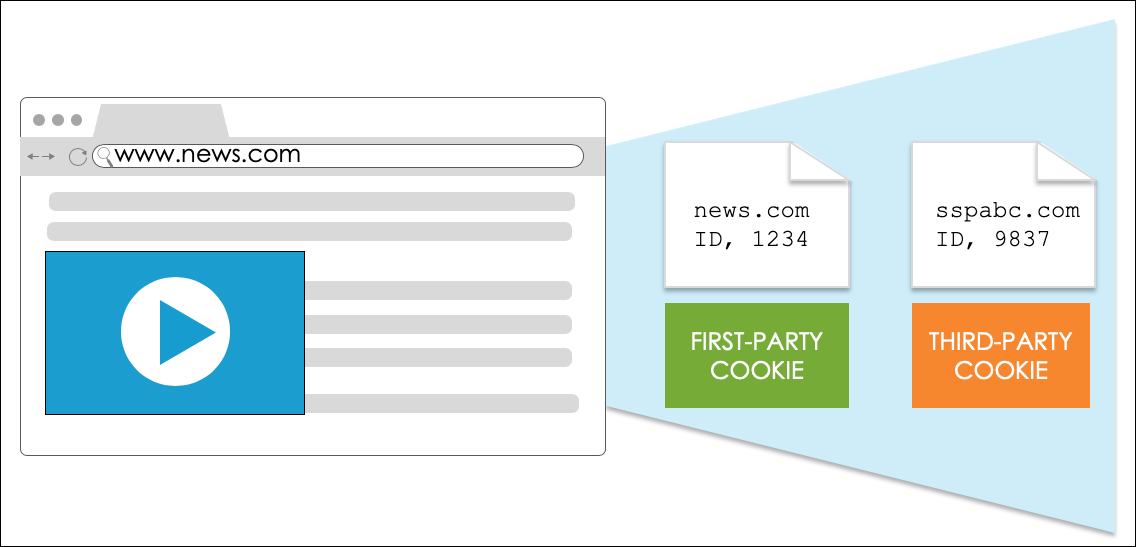 What's the problem with third-party cookies? 
In the age of digital privacy, third-party cookies have been called out as a threat to user privacy. Third-party cookies allow vendors to build up profiles about a user based on their internet activities. Often times, these third-party cookies are set by companies the user has never heard of nor has any relationship with. 
What does the end of third-party cookies mean for ad tech? 
In digital advertising third-party cookies are widely used by ad tech companies to identify users on desktop and mobile web environments for the purposes of targeting, frequency capping, and reporting. However, the pending demise of third-party cookies is no reason to panic, according to Jessica Berman, Principal Product Manager at SpotX:  
"Google has expressed a commitment to develop open-source methods that allow publishers and advertisers to sustain an ad-supported web prior to phasing out third-party cookies," said Berman. "The end of third-party cookies presents an opportunity for industry-wide collaboration to create a solution that powers advertising in a transparent manner and allows a user to control how their data is collected and used." 
The ad tech industry is still in the early days of identifying an optimal solution for a post third-party cookie world. To participate in the ongoing narrative around this topic the following concepts are important to know:  
SpotX is actively engaging in conversations with customers, partners, and vendors to work toward a solution that works for all members of the digital advertising ecosystem. While the exact path forward isn't clear, we're confident that a solution allowing ad tech to operate in a manner that is more transparent to users is on the horizon. After all, digital advertising isn't going anywhere, it's the backbone that enables a free and open internet. We'll keep you posted on this topic as progress is made. 
This article was written by Amanda O'Hara, product marketing manager at SpotX