Disruption and Opportunity in 2016

It's no secret that the traditional concept of television has entered a transformational phase with tremendous potential for broadcasters and content owners. For the last few years, it has just been a matter of when this transformation will finally result in action. With programmatic buying only representing 4% and $2.5 billion of U.S. TV budgets in 2015, this transition will soon accelerate according to Magna Global. Programmatic buying is projected to increase to 17% and $10 billion of TV budgets by 2019.
So what will this transition look like in 2016? More and more companies are announcing their prospective programmatic TV solutions. With these emerging solutions, additional industry guidelines are being established. The Television Bureau of Advertising (TVB), the trade group that represents local TV broadcasters has recently announced guidelines to facilitate cooperation among other industry agencies including the IAB and the Media Research Center (MRC). Now that these guidelines are in place, you can expect TV business models to evolve rapidly. These business models will be aimed at mitigating the challenges the industry is facing and capitalizing on the disruption and opportunity this year presents. We think disruption and opportunity characterize a lot of the PTV trends that we expect to see in 2016. Here are the top four to look out for this year:
1. Deterioration of Currency
The role of age and gender as the sole authority of media value is deteriorating, both from the standpoint of brand engagement, as well as this model's limitations in capturing the intersection of consumer and content across thousands of linear TV viewing sources. Audience-based buying, the practice of targeting audiences across channels using first or third party datasets is becoming an increasingly common technique for establishing the value of ad opportunities.
2. Pricing Silos
Until now, TV and digital assets have been independently measured, priced and sold. Limitations on establishing equitable cross-screen valuation metrics, based on audience attributes, have prevented many media owners from pursuing holistic campaign management strategies. This works decidedly to the favor of the buyer, who can take advantage of undervalued inventory.  Industry leaders will begin to implement first or third-party datasets to fairly value audiences across TV and digital channels.
3. Data-Centric Media Valuation
Brands looking to leverage third-party datasets and proprietary CRM insights for the purposes of ad decisions is becoming commonplace. While it's rare at this point that this data serves as the primary valuation mechanism for TV campaign executions, it is quickly becoming a secondary benchmark of achieved value, with conditions of sale determining campaign fulfillment obligations associated with the application of this data.
4. Audience Fragmentation and Migration
Content discovery, which is at the core of audience fragmentation, is accelerating as TV programmers transition more and more premium, first-run and live content to digital streams. As media owners make additional content available across more platforms — either organically through desktop and direct-to-consumer apps, or through SVOD platforms like Netflix, Hulu and Amazon — audience fragmentation will continue on its steep trajectory. The most vexing aspect of fragmentation (as the success of cable TV has demonstrated over the last decade) is that it leads to audience migration. Content discovery causes significant consumer segments to migrate to different viewing mediums, especially Millennials who are prone to this type of content exploration.
With these industry disruptions and opportunities come emerging programmatic solutions and guidelines. As the pieces begin to settle into place, it's only a matter of time before advertisers increase their level of sophistication and comfort enough to place their trust and their ad dollars into this emerging space.
Read more from our programmatic TV series:
Download our programmatic TV white paper series: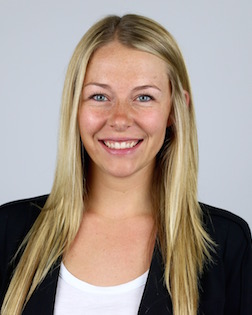 Insights from:
Lexie Pike, Product Marketing