Increasing Publisher Success Through Visually Intuitive Features
Customer centricity is a core principle at SpotX to ensure that we're providing a quality user-experience. We always keep our customers in the forefront of our minds when developing products. Given that the human brain processes visuals 60,000 times faster than text, visually intuitive features contribute to faster and more efficient work flows.
As a part of our customer centric philosophy, we're continually focused on adding more visually intuitive features, including the Pacing Gauge, price floor optimization and player size reporting to name a few.
The Pacing Gauge offers a quick, visual gauge of how well publishers' campaigns are pacing toward their target, making it easy to know when optimization is needed to speed up or slow down pacing. This visual representation features a color-coded bar. The bar will appear green when pacing is on target with 0-5% variance, yellow for a 6-10% variance off target, and red if the variance is greater than 10%. This allows publishers the ability to easily monitor impression delivery against a campaign target.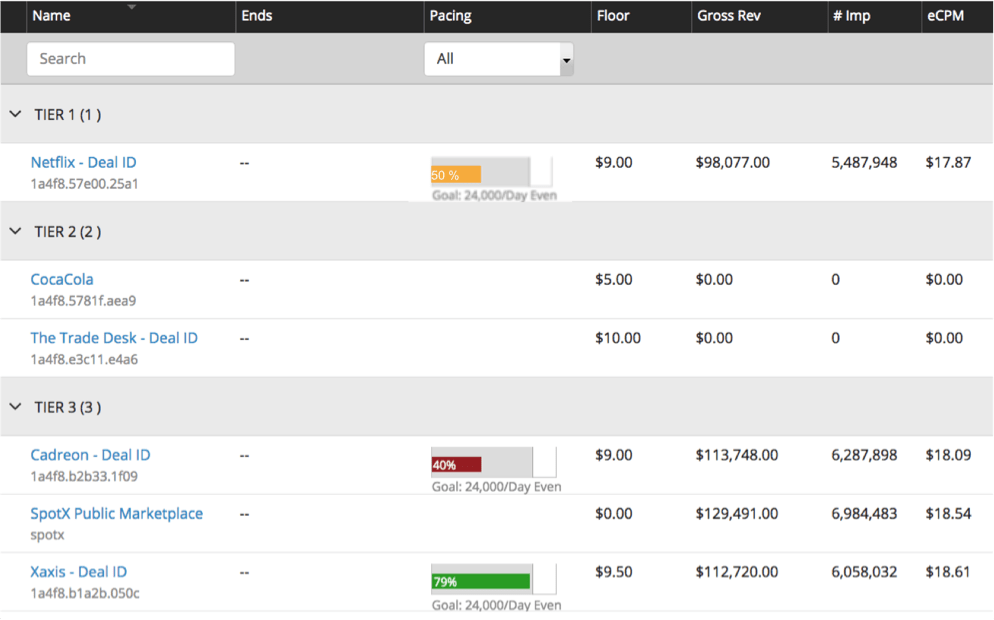 In addition to campaign pacing, the SpotX platform provides a variety of visual reports that give publishers maximum insight into their inventory performance. Price floor optimization provides interactive visual cues that indicate the level of demand for a publisher's video inventory in relation to their respective price floors. These quick indicators enable publishers to make smart decisions about raising or lowering price floors to maximize the value of their inventory.
Another key visual report is our player size reporting. Player size reporting captures bidding activity, impressions, fill rate and revenue by small, medium and large player sizes to showcase how the different player sizes are valued. A pie chart shows the distribution of player sizes within a publisher's inventory. Using this information, publishers can make pricing adjustments to capitalize on their inventory's makeup.
All of these visual features facilitate faster and smarter decision making, helping publishers make the most of their inventory. Our user-friendly interface allows publishers to spend less time navigating the platform and more time focusing on inventory optimization. As our company continues to grow and evolve, we will always remain customer centric.
Insights from: Lexi Pike, Product Marketing