Improving SpotX Auction Efficiency With Predictive Traffic Modeling Algorithms
2020 has accelerated the rate of change in the ad tech industry. Trends that were previously on the horizon have been expedited as COVID-19 has us spending more time than ever at home – working, learning, and living in a reality that looks very different than the one we ushered in at the beginning of the year. Since March, SpotX has seen a huge uptick in global CTV traffic. This increase is shown in the graph below and also tells us that this upswing in viewership is part of the new normal.
Source: SpotX Ignite
Despite traffic increases, many advertisers have seen reduced budgets and paused campaigns. To continue to optimize performance and the scalability of our platform for customers, we saw an opportunity to introduce more intelligent ways to shape traffic to better separate the signal from the noise to drive overall efficiency. 
That's why SpotX is introducing platform-wide predictive modeling to our auction process. Predictive modeling not only drives incremental value for our supply and demand partners but also future-proofs our platform and our customers' businesses in preparation for long-term continued growth.
How does predictive traffic modeling work at SpotX? 
As programmatic transactions continue to climb in frequency, DSP partners are strictly enforcing reductions in call volume and inventory duplications. Without intelligent methods to shape traffic, this can result in DSPs blocking requests – or even entire publishers – to maintain desired efficiency. This is less than ideal because blocks result in fewer opportunities for publishers and advertisers to match demand with supply. 
To exceed DSP guidelines, be a great partner, and improve overall market dynamics across our ecosystem, SpotX has implemented an array of intelligent bid stream analytics and predictive algorithms built on real-time and historic data. These algorithms will showcase opportunities in the best light possible based on individual campaign needs while increasing alignment across supply and demand.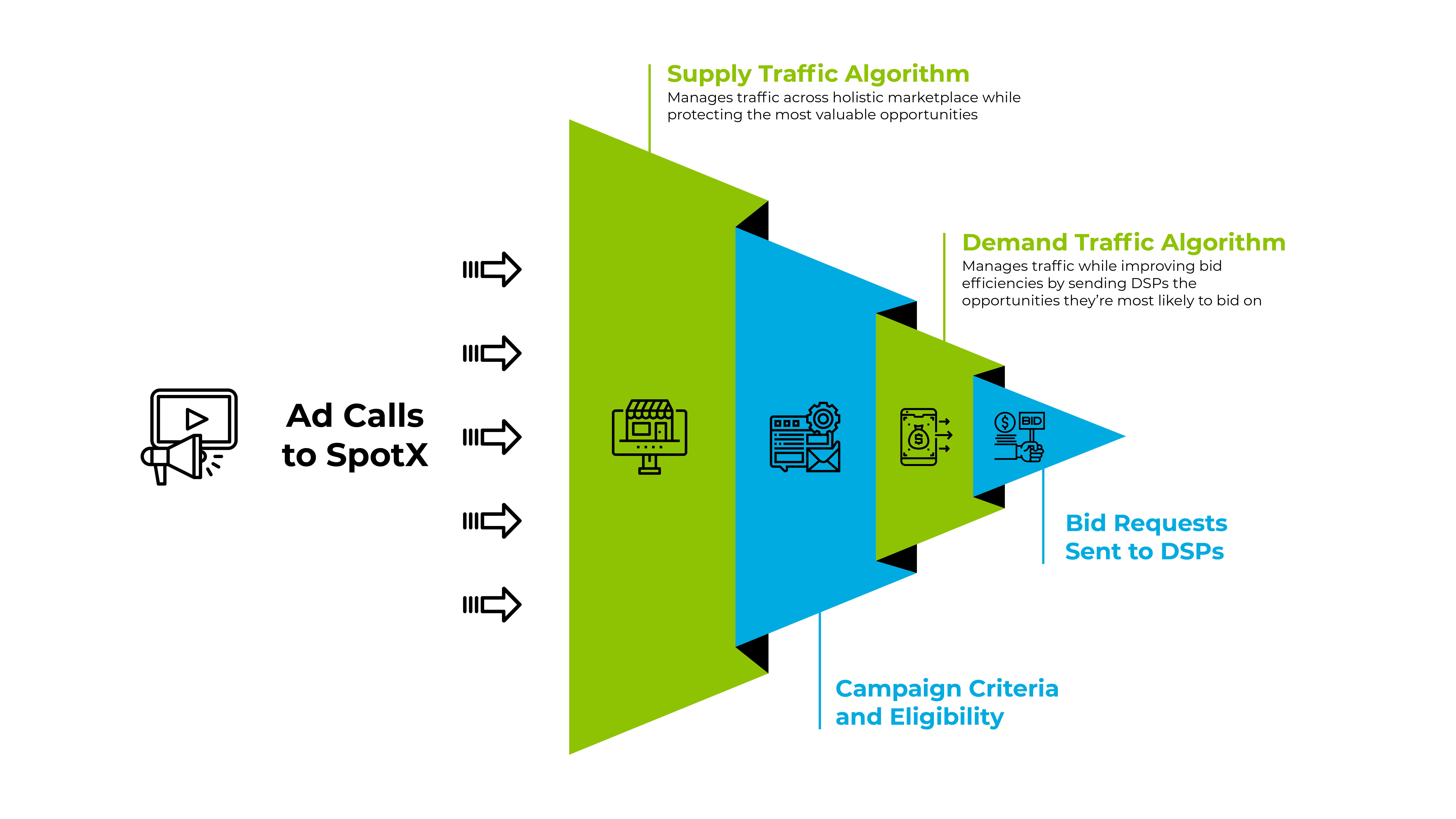 Our supply and demand traffic algorithms work in unison to help curate traffic across the entire ecosystem to ensure that buyers are seeing the most relevant opportunities where they have the highest likelihood of bidding and publishers are able to automatically scale campaigns toward the most performant inventory. This helps reduce waste for DSPs while improving bid efficiency and yield. To keep up with today's rate of change, our algorithms are purposefully built to be dynamic. The intelligent nature of our algorithms ensures that as the needs of the market change, the flow of inventory and bid requests will adapt and react appropriately to maintain a steady stream of relevant, quality inventory and high-value bid requests.
What do the results look like? 
Compared to last year, SpotX has seen notable improvements to bottom line efficiency and inventory effectiveness. These improvements are, in turn, passed on to all our DSP partners by proxy. Given the current environment, and increases in home streaming and content consumption, SpotX has seen the following breakdowns: 
In addition, the dynamic nature of our algorithms ensures that they are continually learning in real-time to account for any changes that occur in the market. As we continue to evolve, we're excited to keep working in concert with all of our partners to make SpotX the most efficient and effective place to buy and sell inventory at scale. 
Bethany Lechner is a Product Marketing Manager at SpotX where she develops go-to-market communication plans and content creation for product and feature releases. Prior to joining SpotX in 2019, she started her career in advertising as a strategist where she led national and global brand strategies for a variety of clients, including American Airlines, Infiniti, Anheuser-Busch, and Fruit of the Loom. She holds both a B.S. and MFA from the University of Colorado at Boulder, where she picked up her love for backcountry skiing and mountain biking.