How Onboarding Advertiser First-Party Data with an SSP Can Help You More Effectively Reach Your Audience
Advertisers collect an astonishing amount of customer data on a daily basis. Every interaction you the consumer have with a brand provides them with valuable information to help shape your user profile and their perception of you. Believe it or not, it only takes a few quick clicks on a website for a company to start building your profile and formulating insights used to serve you targeted ads.
Take a look at a small sample of inferences a hotel chain might make about you from a brief five-minute engagement with its website.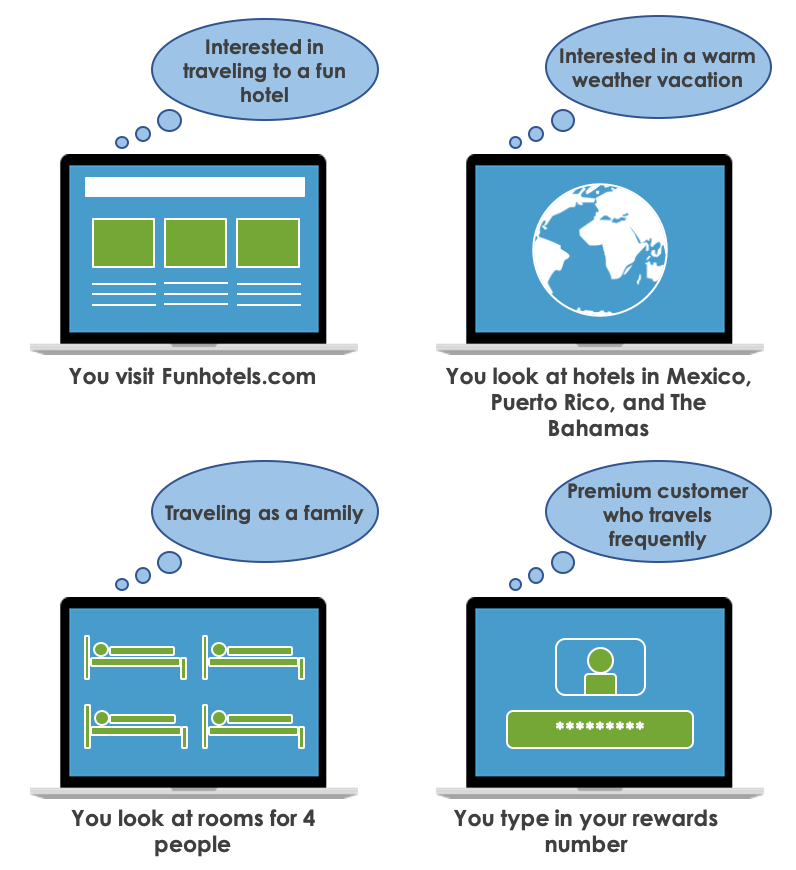 As you can see, collecting individual customer data is quite simple. In addition to providing brands with a clearer understanding of their user demographics and interests, this first-party data allows advertisers to increase the value of their campaigns and connect directly with their intended audiences.
While audience-based targeting is by no means a new concept for digital advertisers, the way in which it's being executed is beginning to evolve. Traditionally, a company collecting first-party data may work solely with its demand partners to source inventory that matches its targeting criteria. For example, Funhotels.com wants to promote a new luxury hotel to its high-spending customers; It provides the audience segment to its DSP who then bids on inventory meeting the targeting criteria.
Due to the rapidly increasing number of transactions now occurring in private marketplaces as opposed to the open marketplace, it is more important than ever that advertisers consider a data strategy with the supply side. By targeting its audience data through a supply partner, Funhotels.com can significantly increase its access to premium inventory and bring incremental value to its campaign.
How can SSPs help advertisers more effectively use their data?
SSPs are beginning to take on a far more prominent role in connecting advertisers with their audiences. The key advantage being that an SSP like SpotX has hundreds of direct relationships with the publishers selling the available inventory. With SpotX's Audience Management Engine, brands can unlock the full potential of their audience data by targeting it directly within the SpotX Platform. Let's dive deeper into why this is beneficial.
SSPs have a holistic overview of available inventory
Because SSPs work directly with the supply partners, we have a comprehensive view of the inventory that is available at all times. As more premium publishers shift their inventory from the open marketplace into private marketplaces, or were never comfortable transacting programmatically in the open marketplace to begin with, SSPs are beginning to provide advertisers with additional value. SpotX, for instance, can forecast your selected audience against every inventory opportunity in our platform, including premium publishers only participating in private deals, to ensure you reach the greatest possible scale.
Curated marketplaces
Furthermore, SpotX can create a curated marketplace specifically tailored for your audience and campaign. Assume that Funhotels.com has synced its data with SpotX's Audience Management Engine and is looking to promote its new luxury hotel to high-spending customers. SpotX will cross-reference this audience segment against all of our publishers to build a curated marketplace composed of premium inventory that will meet Funhotels.com's impression and brand safety goals. Funhotels.com is now able to reach its target audience through a group of trusted publishers that would otherwise be inaccessible in the open marketplace.
Programmatic guaranteed deals
Once onboarded with Audience Management Engine, SpotX can begin quickly facilitating high-value programmatic guaranteed deals fueled by your audience data. For instance, SpotX sees that Funhotels.com's target audience indexes highly with premium, high-traffic publisher Glorious Games Inc. SpotX can assist Funhotels.com in pre-negotiating an agreement with Glorious Games Inc. to deliver a set number of impressions at a fixed CPM. Funhotels.com has now eliminated much uncertainty around campaign delivery and is guaranteed to reach their audience through a highly reputable publisher without any waste.
Advertisers should have confidence that their campaigns are reaching their intended audiences in a trusted environment. It is important that every impression delivers the highest possible value and that spend does not go to waste. If you're an advertiser who is interested in leveraging your first-party data and broadening the scale of publishers you transact with, reach out to your Account Team to learn how you can get started with Audience Management Engine.
This article was written by Zachary Atlas, product marketing manager at SpotX