clypd and SpotX: Bridging Linear TV and OTT
Video consumption habits are evolving. This is in part due to "cord-cutters" — people who cancel their cable and other pay TV subscriptions, often opting instead to consume premium content via the internet. Despite the shift, linear TV still dominates, accounting for 81 percent of weekly video viewing time. It captures close to five hours of the average U.S. adult's time per day compared to only 46 minutes spent watching long-form CTV content.
Even though OTT is slowly eating away at traditional TV platforms, media owners are finding ways to not lose market share as many of them are now also OTT providers, delivering their content both over the internet and through linear TV. Many have invested in popular third-party platforms to get in on the rising OTT opportunity. For example:
DISH launched Sling TV

Comcast, The Walt Disney Company, and AT&T share ownership of Hulu

Viacom recently acquired Pluto.tv

AMC Networks, 21st Century Fox, Sky, and Discovery Inc. have invested in fuboTV
To support the harmonious coexistence of linear TV and OTT, clypd and SpotX have teamed up to provide the first cross-platform suite for media owners to forecast, execute, and report on campaign performance across screens and channels. We recently sat down with Katie Majeski, principal product manager at clypd, and Eric Openshaw, senior product manager at SpotX, to chat about this partnership.
Why is this partnership between clypd and SpotX important for the industry?
Katie: The clypd/SpotX partnership draws on clypd linear TV leadership and SpotX OTT expertise to create an innovative cross-platform video advertising solution. While reports show that TV audiences are shifting away from traditional TV, it's important to build a solution that will optimize ad dollars to reach audiences wherever they may be viewing.  
Eric: Given the blend of platforms that people are consuming video on, it no longer makes sense for ad sales teams to work in silos specific to OTT or linear. There is a clear demand from the market to provide tools to streamline operations across all platforms. In addition, from a buyer's standpoint, all that matters is audience reach. A cross-platform tool will allow media owners to provide audience insights to buyers.
What excites you the most about the convergence of linear and OTT?
Eric: There are a few opportunities for workflow optimization and audience extension that stand to benefit buyers and sellers and, ultimately, the viewers themselves. From an industry standpoint, we need to react to the viewing patterns of consumers, and that provides a huge opportunity for technological innovation. Companies, such as SpotX and clypd that already are leaders in their respective spaces, have the opportunity to come together and lead the market in this new landscape.
Katie: In short, we are creating a solution that allows our partners to reach an audience across their inventory of networks, apps, etc., regardless of platform. It will revolutionize the way targeted video advertising is planned, optimized, and reported on across linear and digital video platforms.
What value will media owners gain from this solution?
Katie: Media owners will gain a centralized tool to plan, optimize, execute, and report on video deals across all of their inventory, whether it's linear TV or OTT. They will have a competitive edge courting buyers to spend on their properties by being able to offer cutting-edge budget allocation tools for optimal audience reach.
How will advertisers benefit from this partnership?
Eric: In this first phase of the partnership between SpotX and clypd, media owners will be able to provide the insights advertisers need to understand how to allocate their budgets and reach audiences who have become increasingly fragmented.
What do you think is the biggest challenge media owners will face as they transition ad dollars from linear to OTT? What about for advertisers?
Katie: Shared linear/OTT cross-platform budgets and targeting are very new in the market. For both media owners and advertisers, the challenge lies less in transitioning ad dollars from linear to OTT but rather in accepting a paradigm shift of optimizing one overall video budget to the best media placements — regardless of platform.
Eric: Further, media owners have been selling linear TV inventory for a long time and have well-established — although no longer efficient — workflows and tools to facilitate this. With the shifting viewing habits moving towards OTT, there is an increased justification in investing in how they sell OTT inventory. Therefore, there is a strong business case for investing in more efficient tools that support a now substantial part of their business: OTT.
How are you going to translate linear metrics to OTT and vice versa?
Eric: There are many measurements that are conceptually similar and easily mapped; however, we prefer to follow industry guidelines and best practices when possible. Therefore, we are tracking guidelines being drafted by the Media Rating Council (MRC) and Advanced Targets Standards Group (ATSG) that aim to provide cross-platform consistency for things such as target definition, exposure definition, and target measurement.
Katie: Although conceptually similar, metrics available in linear and OTT still present an interesting challenge. For example, reach and target rating points (TRP) in linear are very well understood, whereas completed views are an important metric in OTT. We're working with partners across the industry to understand the most valuable metrics and how to report on those across platforms. As Eric mentioned, all cross-platform data architecting and reporting will adhere to standards set by the ATSG and MRC.
How does audience targeting in linear differ from OTT? How are they similar?
Katie: Linear audience targeting makes use of panel-level data that tracks viewing habits of known individuals in households. On the other hand, OTT audience targeting uses digital targeting options that leverage device graphs at the household level. In both cases, media owners can bring their first-party data to the table.
Eric: Each has its merits and the key to providing holistic targeting cross-platform is via partnerships with data providers that play in both spaces.
What are the top three things partners should look forward to as clypd and SpotX enhance their solution?
Katie: From a media owner perspective:
A unified cross-platform planning, optimization, and reporting tool

Reaching targeted audiences across platforms

Embarking on the clypd and SpotX journey to pioneer and revolutionize the future of cross-platform advertising
Eric: And from an advertiser perspective:
Buying linear and digital inventory in tandem to extend reach

Consolidating their media planning and reporting

Deploying advertising budgets intelligently
For more information about the SpotX and clypd partnership, please reach out to SpotX or clypd.
About Katie Majeski
Katie Majeski has followed the ad tech wave for over ten years and now drives innovation as a principal product manager at clypd. She's passionate about finding efficiencies while building industry-leading products. Prior to clypd, she worked on building a DMP and attribution model to support mobile/digital cross-screen media buys.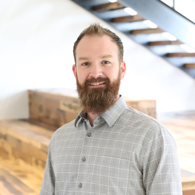 About Eric Openshaw
Eric Openshaw is a senior product manager at SpotX and has spent 15 years in the media industry across both digital video and linear TV in a variety of engineering, product, and executive roles. Eric brings a strong technical background and broad ecosystem exposure to this partnership.