Clean Ads I/O takeaways from Nick Frizzell, Director of Brand Safety at SpotX
Cleanliness in digital advertising has never been more complicated. Whether you're worrying about bot traffic, viewability, hidden ads, ad stacking, domain spoofing, piracy, malware, privacy, cross-device targeting, transparency or generally increasing efficiencies, there are a million factors that need to be considered in each digital transaction. To increase complexities, everyone has a slightly different perspective and methodology to address each type of fraud, which at times can cause headaches. At Clean Ads I/O, many of these issues were voiced from the perspective of marketers, agencies, publishers, vendors and governing bodies.
SpotX has always been dedicated to keeping things as clean as possible. We were one of the first companies to be compliant under the IAB's Quality Assurance Guidelines and have implemented various solutions and teams to help proactively and reactively address quality concerns. We've always believed that everyone has responsibility and accountability in the hygiene of our industry and that fraud shouldn't be written off as a cost of doing business.
We're taking steps in the right direction to instill trust in digital advertising. It's great to see the industry coming together to set standards and a higher level of accountability with governing bodies such as the Trustworthy Accountability Group (TAG). It's important that we all continue to work together for the greater good of the industry. By cleaning up the landscape and removing much of the opaqueness, buyers will see more effective and successful campaigns and publishers can command higher prices.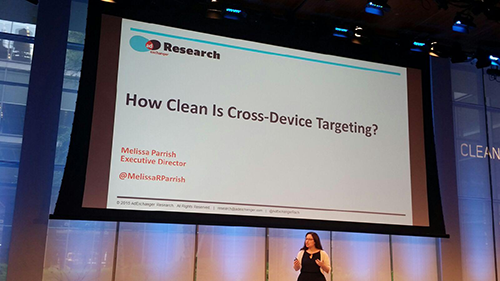 Melissa Parrish, Executive Director at AdExchanger, presenting at Clean Ads I/O