A PTV Guide for Sellers, Part 4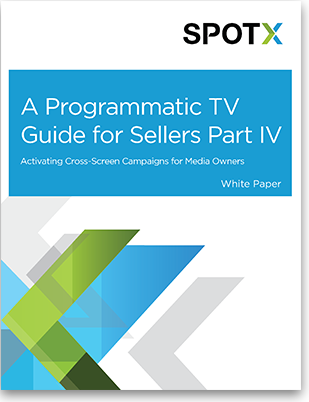 As pioneers in programmatic advertising technologies, SpotX has spent the last year architecting systems which enable media owners to holistically monetize audiences across all screens.
Activating Cross-Screen Campaigns for Media Owners, the fourth and final white paper in our series, focuses on bridging the digital video divide that before now, has made audience-driven, cross-screen campaign activation a daunting proposition for media companies.
The first installment in our white paper series sheds some light on the industry's use of PTV today and discusses how TV operators and content providers can benefit from this technology.
DOWNLOAD NOW
The Challenge: Changing Patterns in Video Consumption explores the shift in viewing patterns of audiences and how programmatic technologies will allow media owners to maximize revenue in this ever-expanding ecosystem.
DOWNLOAD NOW
Yield Management: A Focus on Holistic Audience Monetization, the third installment in our instructive white paper series, discusses how TV operators and content providers can benefit from a holistic solution.
DOWNLOAD NOW
SpotX Webinar Series: A PTV Guide for Sellers
SpotX's Randy Cooke on Programmatic TV Advertising
Get News and Updates from SpotX
Sign up now to receive SpotX updates, news and product information from the leading minds in Ad Tech.