Video Player Bidding
All the benefits of header bidding built directly into the video player
Complex implementations and fragmented marketplaces have made applying header bidding to video almost impossible – until now. Video Player Bidding is the first header bidding solution built directly into the player. This turns the integration nightmare into a one-click dream, so you can scale your monetization without needing to rely on developer resources.
Video Player Bidding has helped over 100 clients serve over one billion ad opportunities every month since its launch in February 2018.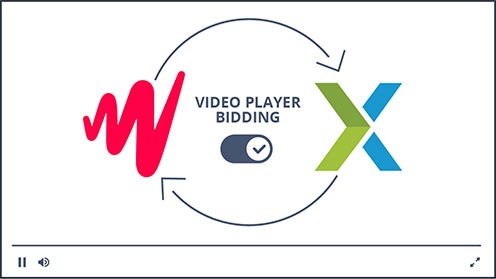 Header bidding has the potential to make you more money, but between the complex set up for devs and slow load times for viewers, implementing it for video has been challenging.
Video player bidding makes it easy through:
Line item creation – we've automated the tedious task of line item setup

Performance reporting – quickly understand what's working and how much you're making

Robust demand – tap into the power of our extensive advertiser and agency relationships
Combining best-of-breed video and advertising technology
Until now, the potential of header bidding for video has been limited by difficult implementation and a fragmented market. Video player bidding is a market-changing solution built for video to greatly improve latency and monetization with just one click.
Video Player Bidding connects video inventory directly to demand sources increasing access, competition, and monetization of your video inventory.
Integrate with a single click
Activated through the JW Player interface, this integration requires no additional code or developer resources.
Deliver A Great Viewer Experience
Header bidding is built directly into the player with no additional ad scripts and complete bid response management. This means no added latency for your audience.
"Video monetization is quickly becoming the most important aspect of a publisher's programmatic strategy, and it's nice to see the two leaders in their respective specialties bring a simple, elegant solution to the marketplace."
— Brian Levine, VP of revenue operations at Penske Media Corporation
Ready to get started? Let's talk.
If you are already a JW Player customer, reach our to your account manager to get started. If not, fill out the form below and someone from JW Player will be in touch.